Even though you have not been able to pre-order your new Apple iPhone you may like to plan ahead—especially where its accessories are concerned. With the iPhone 6 fever reaching its peak, reputed companies have already started marketing and pre-selling folio wallet cases, battery cases, bike mounts, arm bands and regular covers alike.
Made of high quality materials and boasting of incredible features, durability, good looks and affordability alike –the under mentioned top iPhone 6 cases are fast becoming a rage with fans of all ages and from all walks of life. Now, all that you need to do is choose the one that's right for you—right away.
Check out these amazing iPhone 6 covers to take your next device to the highest levels of comfort.
The Defender series cases are known for the solid protection they offer against drops, dust, bumps and shock damage. It has a 3 layer protective case and doesn't affect the usability of the phone's features. The built-in screen protector prevents scratches and with the belt-clip holster, hands free usage becomes possible.
A perfect case if you are likely to use your phone on rough rides or while traveling off the highway.
Let your most prized possession look like a million bucks through the Karat case. This has unique gold leaf highlights placed in a manner that gives it a translucent and dazzling finish.
Its ultra slim but comes with a dual layer design that provides protection against drops and damages. Moreover, there is an enhanced impact resistance.
A great accessory to flaunt at your workplace and among your friends!
This case for iPhone 6 offers it a military grade protection and promises to guard it from drops and scratches. It boasts of a sleek yet rugged dual layer design along with exoskeleton shell that makes it thin yet extremely sturdy. The accessory's 'dual-tred' air pocket and tread design disperses shocks away from the phone. You have the option of changing the back plates in three colours –gunmetal, gold and silver. Stylize your phone while making it rugged. Perfect for the stylist in you.
This popular series of cases offers tough protection to your iPhone 6 (4.7"). It has a dual protection of TPU and polycarbonate. The well –researched web pattern of this series provides advanced shock absorption to the phone and their air cushioned corners alleviate the damage caused due to drops.
Available in gunmetal and black colours, these cases are a must-see for all iPhone fans having a flair for the best phone accessory in town.
Case wallets are perfect for you if you are looking for a multi-functional phone case for your iPhone 6 (4.7") screen. These premium synthetic leather wallet cases protect your phone as well as allow you to safely keep your essential ID cards and plastic money in the available slots. With its smartly designed stand feature, you can adjust the viewing angles in accordance to your specific needs.
It is ultra slim, and has minimal bulk and weight. Available in four attractive colours – black, white, teal and pink; these cases are definitely a steal!
This offering from Bear Motion ranks high on the list of best iPhone 6 cases and has an ultra light weight back cover for your iPhone 6 (4.7"). It protects the back and sides of the phones from scratches and bumps. The premium PC material used for manufacturing this accessory ensures the safety of the phone.
However, this case fails to offer good protection to if you are in the habit of dropping your phone very frequently, but if you are looking for protection against daily bumps and scratches, then this is the best bet.
Go for it—you will not be disappointed.
This has to be one of the classiest iPhone 6 cases that are available in the market today. It is delicately crafted with walnut, which is fused with vegetable tanned leather—thus giving it a very rustic and sophisticated look. The case doubles up as a stand and has corner joints that are crafted with precision.
The phone can easily snap in and out of the case and doesn't hamper with the phone's usability. A great product for home makers, office going people and youngsters alike!
This case is designed to protect your newly purchased iPhone 6 (4.7") to the maximum possible limits. It has dual layer protection offered by a polycarbonate hard shell and a flexible TPU inner core, which guarantees to protect the phone from all drops and scratches. It incorporates an excellent shock absorption technology too.
With very futuristic look and most precise cuts, this case allows easy access to all the ports, sensors, speakers, cameras and other standard iPhone features. It comes with a built-in screen protector too.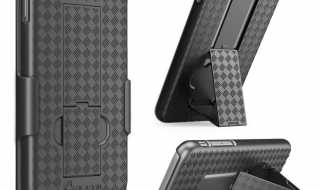 Designed specifically for the iPhone 6 (4.7"), this case will provide a lot of protection to your phone, and with style. It has a slim hard shell case with textured finish and elevated edges that prevent screen damage when dropped.
Its holster clip swivels and has a sturdy lock mechanism that keeps the phone in place. This already popular case has an innovative built-in stand that makes it convenient to watch videos and other media files. In addition, its textured design provides a good grip too.
Are you still asking for more?
This case is designed to protect your phone and at the same time make it look good. It enhances the features of your iPhone with a co-moulded design that comes packaged with a clear polycarbonate back shell and a durable rubber bumper.
This goes a long way in absorbing all shocks and bumps. The textured perimeter makes it easy for you to grip the phone.
If you are a runner, this is case is perfect for you. This is an active wear armband to hold iPhone 6 while you are on the move. Along with a perforated lightweight pocket, it has a neoprene sleeve that allows easy airflow to prevent damage from sweat/moisture.
Its touch-through window gives you easy access to your iPhone's touch-screen.
This is made up of premium vagan leather with some of the best craftsmanship that you may have ever seen. Its material and the design ensure that there are no scratches and damages caused by daily bumps and drops. Its elegant wallet design helps in the safekeeping of your IDs and cards. It can be easily converted into a stand; thus making it easy for video watching, facetiming and messaging.
It has a custom fit dual layer case with a belt clip holster. The outer enclosure hard shell is constructed from impact-resistant polycarbonate and it has excellent shock absorbers too. The improved side mount holster makes it more secure for easy mounting and dismounting. The cuts are precise for easy accessibility to all the ports.
Specifically designed for iPhone 4.7 inch, this is an advanced dual layer designed case. It has the combined benefits of a polycarbonate hard shell and a flexible TPU that withstands drops, bumps, shocks and dust. The front cover design makes it easy for installation and the built in screen protector doesn't compromise the sensitivity of the phone. It includes 3 changeable covers.
This case is compatible with iPhone 6 Plus (5.5") only. It has the dual protection of polycarbonate and TPU cover. Its advanced shock absorption features prevents your phone from any damages from shocks and drops. There is a built-in kick stand for easy, hands-free video viewing. The design is overall 'very stylish'.
This case offers maximum protection to your phone while making it look really trendy. It has a two-piece sliding design that makes it easy for installing and removing the phone. It is compatible with oversized headphones and auto chargers too. Its polycarbonate layer makes it extremely sturdy. To add more functionality to this case, the manufacturers have included shock absorbers at the edges too.
SUPCASE Armband –
It is designed specifically for the iPhone 6 Plus. The silicone skin of this widely acclaimed case promises to provide effective protection to your phone. It has a soft yet stretchy Velcro armband that can fit arms of any size. The phone can be inserted and removed with ease and it armband is separable from the silicone case.
You can hand wash the armband to remove the last traces of any accidental stains or unsightly dirt too.
This is a custom made arm band for your iPhone 6. If you are a sports enthusiast who loves his/ her phone dearly, then this is a perfect product for you. You get maximum sports flexibility and the armband comes with optimum adjustability; making it useable for arms of any size. There's reflective material for night time use and the armband is machine washable.
This case has a combination of TPU and Aluminium frame that provides maximum protection to your phone from drops and scratches. It integrates a brilliant shock absorption technology too. It's compatible with iPhone 6 Plus (5.5") only. Your phone will look very stylish in this slim case.
Designed for iPhone 6 (4.7") screen, this case has an armour shell and an impact resistant soft core. It looks extremely tough but weighs really light. The HD screen protector guards your screen from scratches and it also has oversized tactile buttons. It meets military drop-test standards to the core.
i-Blason Halo Series Hybrid –
Designed specifically for the iPhone 6 (4.7") screen, it has front raised edges to protect your screen from drops, scratches and any damages that may come in the way of your phone. It has an anti-slip grip and offers maximum scratch resistance to your phone. The design is trendy and its cuts are precise—thus giving easy accessibility to all the ports of the phone.
This is a high quality thermoplastic Polyurethane TPU rubberized gel silicone skin case that protects the iPhone 6 (4.7") screen. It's extremely durable and sturdy. The grip offered ensures that the phone doesn't slip easily. The flexi cover has a soft touch and the raised edges provide maximum protection to the screen.
SUPCASE Unicorn Beetle PRO Series –
It is specifically designed for iPhone 6 (4.7") screen and has an advanced front cover snap-on design. It makes it easy for mounting and dismounting the phone. It has a dual case protection of polycarbonate shell and TPU. The built-in screen protector prevents scratches and it has a very sporty design.
You get a belt clip holster and multiple colour options for this case too. A must-buy indeed!
Are you still Waiting?
In all seriousness, what on Earth is making you wait? If you're wide awake and carefully reading this right now, that these are only some of the cool its accessories are ripe for picking.
So, if you are hoping to snag one of the best looking covers for iPhone 6 on they before they're all sold out, you need to act fast.  So, hurry—get your case before your new iPhone comes into your hands. Buy one today!