The past year has been marked with some amazing Dragon Touch tablets, which is why we decided it was time for a Dragon Touch tablet review of the cool options available.  The tough part comes with not owning one but in deciding which one from the various options that are on the market these days.  It's not an easy decision since the quality is good between the different selections.  Therefore I decided to take you through the most popular and impressive Dragon Touch tablets of this year.
At the outset I was skeptical about tablets which are priced below $100, because I was doubtful about the software and durability of the tablet. But with the introduction of the Dragon Touch series, my perception towards low cost tablets changed completely.  The Dragon Touch Android tablet uses amazingly high quality software and present them at an unbelievable low price point when compared to some of the better known brands and tablets. In fact, it would not be wrong to say that now you can purchase tablets of high standards at an affordable price. The Dragon Touch tablets range of options has made that now possible!
Why Choose Dragon Touch Tablets Over Other Flagship Brands?
Suppose you are buying a tablet for a starter use such as a young child or for someone that you are not sure how often they might use it – My parents come to mind for that second option!  You would not want to pay a huge amount for that. When you look into the market and available options, you come across both cheap tablets and high priced business tablets. But for entry levels tablets you see some tablets as low as $50USD. If you consult with many users of those cheap tablets you are bound to get satisfactory reviews. These less expensive tablets are generally offer value for the money. With the Dragon Touch collection, there's rarely any reported failures or issues so that makes this brand one of the best options to consider in the affordable Dragon Touch Android tablet options for 2016.
Let us take a look at some of the best Dragon Touch tablets in the market:
It is a seven inch tablet, with matching GPU and quad core processor. It comes with a dual camera that allows you to take still shots as well as selfies too. If you wish to extend the storage capacity, then you can use a micro SD card. The tab has an easy access port that allows you to insert the SD card. Battery life is quite commendable. With a single charge it can last for a day with moderate use. It delivers a smooth performance. For basic digital entertainment, the display screen is very sharp and has a nice picture quality.
Dragon Touch A 939 8 inch Tablet
The USP of this Dragon Touch tab is that it supports a whopping 32GB storage capacity with the help of a micro SD. In terms of consistency and reliability, this Dragon Touch is (as of now) the best. It has got an awesome build quality.  For day to day tasks, the processor definitely does a decent job. For children and game lovers this tablet is amazing as it has a very responsive screen. The sensitive approach of the touchscreen makes it easy and enjoyable for those that love playing their games on a tablet. The battery life is also strong to sustain the long hours of running games and apps in this tab.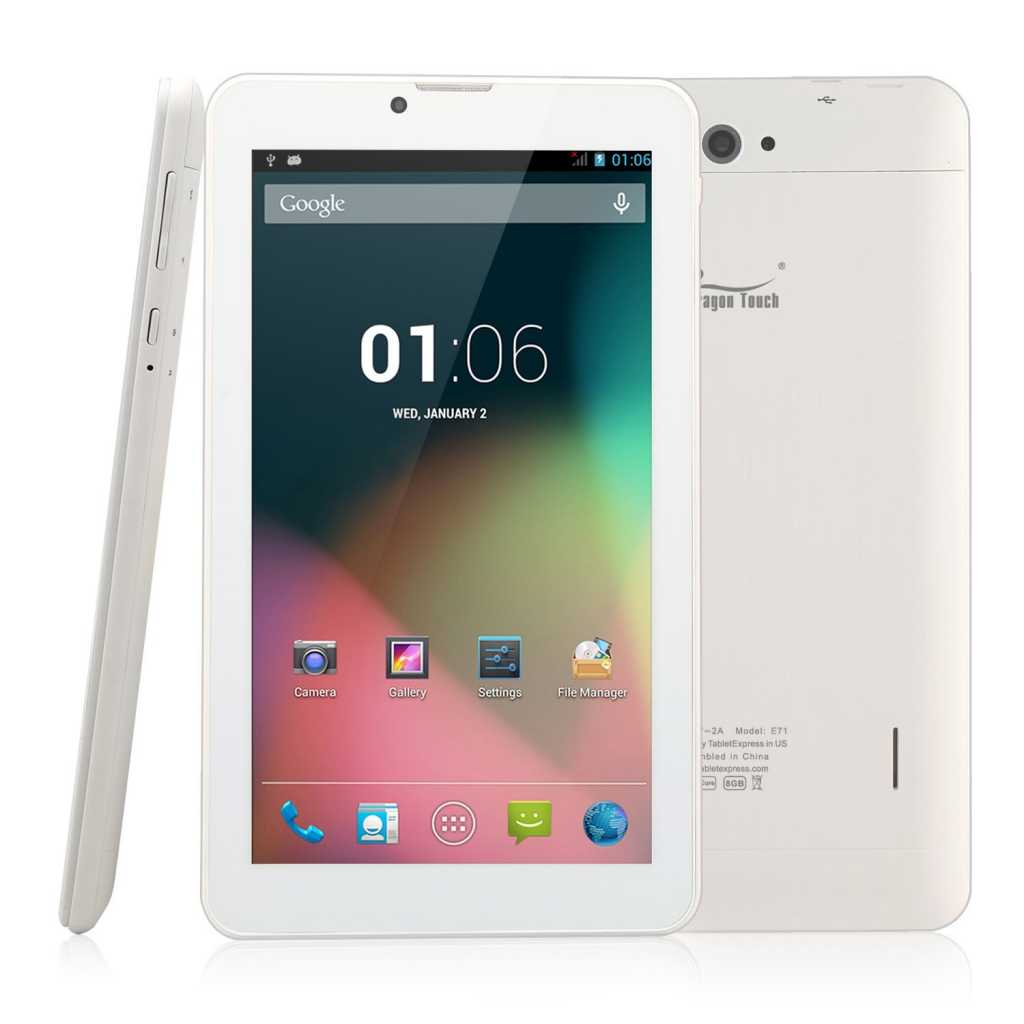 The autoflash camera is the big draw of this Dragon Touch tablet. In low light conditions  the picture quality comes out well as the autoflash provides good exposure to the shots under those conditions. The Dragon E70 has similar features but E717 is cheaper than E70, so if price is the big factor this one is worth checking out. This tablet is more of a cross between phone and tablet, so it can be aptly called a "phablet". You can replace your phone Sim card in this tablet and get data services as well as phone calls. Therefore you get the best of both worlds of phone and tablet with Dragon Touch E717.
This is a perfect quadcore Android kids' tablet. It has got all the children friendly apps and features. It even runs smoothly and gives seamless performance.  Unlike many tablets, this Dragon Touch kids tablet is totally focused on kids and what works for them. It is lightweight and comes with a cover case to protect it from mishandling and drops. But it is not just a kids' tablet. It gives an extraordinarily fast performance. The best feature of this tablet is the built in children apps the tablet comes with. As parents you should take a look at the apps and games because many of them are considered to be helpful in brain development and eye coordination of your kids. So if you want a great gift for a young person, this one should be your choice.
Google Android 4.4 (KitKat)
7" Multi-touch 1024×600 HD
Quad Core 4×1.2GHz
8 GB storage, 512MB RAM
Dual Camera
Wireless N
G-sensor
This tablet is new and offers a more premium experience to its users among the Dragon Touch series. It maintains an affordable price but definitely you get more than previous models of Dragon Touch plus a nice sized version with this Dragon Touch 10 inch model .  It has got inbuilt 16GB storage which can go straight to 64 GB via an external SD card. Therefore if storage and memory is your game, then this is it. It has a comparatively large display screen size.  So apart from the storage capacity if you want to enjoy watching movies and stream TV channels, then this tablet is definitely not a bad choice. And for testing out tablets, this Dragon Touch model is definitely one to consider.
Google Android 4.4 (KitKat)
10.1" Multi-touch screen
MTK8127 Quad Core 4×1.3GH
16 GB storage – 1GB RAM
Dual Camera
Bluetooth 4.0, GPS, Mini HDMI
Wireless
G-sensor
10.6 x 6.7 x 0.4 inches
This is another jewel Quadcore processor Android tablet. The HD quality screen size is unbeatable, given the price tag. Plus on the performance scale, the scores are equally high. Bottom line, this Dragon Touch model is just about everything you might want in an affordable tablet. You get a wonderful display screen with a high quality performance.
Android 4.4 KitKat
8" IPS Screen 1280×800 H
Quad Core 4×1.3 GHz
16 GB storage, 1GB RAM
Dual Camera
Wireless
HDMI, Bluetooth, GPS
G-sensor
With each new model, Dragon Touch is getting better and better.  This new model has got all the latest software and features which can give flagship models a run for their money. The large screen size which is over 10 inches is excellent and helpful and it has the right kind of entertainment apps that you are going to love to run. With this model you can see that Dragon Touch has taken its standards to the next level.
1.6 GHz RK3066 Dual-Core Mobile Processor; 1GB RAM

Google Android 4.1 (Jelly Bean) OS

8GB Internal Memory; microSD expansion up to 32GB

10.1-inch Multi-touch Screen

Wi-Fi

2.0MP rear camera – 0.3MP front facing camera
After reading this post and the 7 Dragon Touch tablet reviews, you can easily make a decision on these affordable tablets.  If this is a first time tablet or one for a child or someone that is clumsy or loses things, Dragon Touch is certainly worth checking out.   With all the features, solid quality and various apps, Dragon Touch tablets are tough to ignore and hard to beat!
What do you think of the Dragon Touch tablets?  Let us know in the comments below.