[Updated March 2017] Regardless of whether you are using yours for business, gaming or personal use, these are some accessories that you should have–to make your laptop easier to use, safer and all-round better!
Take a look.

To protect your laptop, investing in an outlet surge protector power is a great idea. Amazon Basics 6 outlet surge protector keeps your laptop safe in case voltage fluctuates, spikes or sells to protect it from damage. Since a laptop or pc continues to use power when in standby mode, this surge protector power strip can completely shut it off when not in use thus helping to conserve energy. In addition, Amazon Basics 6 outlet surge protector strip can offer protection for home entertainment systems and computer electronics.

Do you use your laptop for long hours? Does your laptop overheat? Well, you need a laptop cooler cooling pad. This 15.6- 17inch laptop cooler comes with ultra slim and portable. It also features 3 ultra-quiet fans and USB ports. The cooler has an LED indicator light which enables you to know the working status of your cooling pad especially at night. The HV-F22056 cooling pad has two shield holders behind the back that provides you two height levels for better typing and viewing experience.

AmazonBasics laptop sleeve protect your laptop from debris, bumps, falls and other accidents your laptop may come across. This sleeve offers storage when travelling and the padded features a top zipper so that you can easily retrieve your laptop. The slim design allows you to use as a standalone case and carry only the essentials or place in your bag for added protection.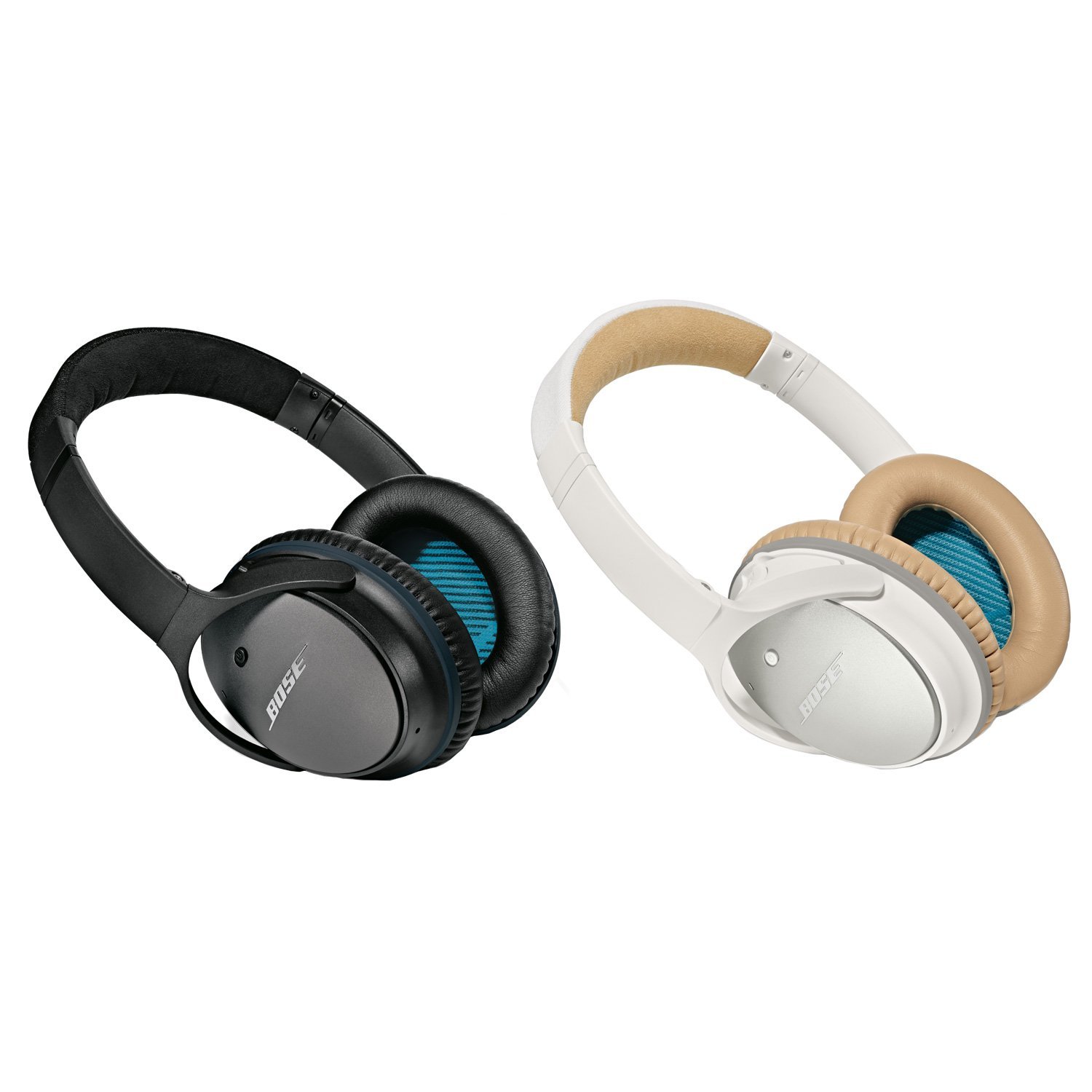 Whether you're watching movies or listening to music, having high-quality noise canceling headphones is a must for every laptop user. Bose QuietComfort 25 Acoustic is one of the best laptop accessories for college that every student should have when they need to take a much-needed break or simply enjoy streaming movies. Bose QuietComfort 25 Acoustic is optimized for Windows, Android and Apple devices as well as providing some exceptionally effective sound canceling properties making it one of the best laptop accessories for gamers.
The worst thing about laptops is the fact that they mostly don't have more than two USB ports. Naturally, for anyone that likes to connect multiple peripherals, this is a major issue making Satechi Slim Aluminum Type-C Multi-Port Hub Adapter one of the best laptop accessories for students. It provides users the ability connect multiple USB and USB-C devices. It has two USB 3.0 ports, Type-C pass-through port, and 4K a HDMI (30 Hz) video output. Considering most Mac laptops don't have more than 2 USB ports this will allow you to connect multiple USB devices and peripherals easily!
With plenty of space for your laptop, cellphone and tablet, this is one of the essential laptop accessories. This one is simple yet stylish with features that make it easier for you to work. The lapgear is made of smooth wood-grain surface. The soft touch wrist pads are provided to give comfort while working. The base of this lapgear is prepared with plush cushion to give stability along with comfort.
The design is angled so that the support is right. There is a non-slip phone grip attached as well. There is a built in handle to carry it off easily. So, now you can work anywhere whether you are on the go or relaxing on your bed comfortably without getting stressed.
This is a perfect product for those indulged in long hours of work on laptops and tablets.
Your laptop is capable of performing all sorts of tasks and serves as your best friend at most times. Unfortunately, its batteries drain down pretty fast—what do you do?
Its true; there is nothing more annoying than seeing your battery life run out when you happen to be far from your charger, which is the reason why a PowerStick USB charger proves to be a welcome device. You just need to plug it into your laptop via the USB port and your internal battery is charged.
This very useful laptop accessory comes packaged with a standard USB port for charging your device and also contains a Mini USB, Micro USB and an Apple 32-pin connector that helps in charging iPhones and iPads. It can double up as a USB memory stick boasts of a storage capacity of 4GB to 16GB.
Elgato Game Recorder
As an avid PC game player, you must be aware of nifty applications called Fraps that help in the easy recording of the footage of your efforts. But then, the act of capturing a stream from the console proves to be much more difficult—right?
This is the reason why Elgato's Game Recorder HD or external video-capture device as it is commonly called, is used as a straightforward way of recording the videos of your performances. This oft-purchased laptop accessory can rip off a stream from any unencrypted device –including consoles, computers, Android and Apple iOS devices, and transform it into a video format that can be easily shared on YouTube or Twitch.
This device is particularly helpful if you frequent gaming forums, run a blog or take part in tournaments. Accredited by Microsoft and Sony alike, this gaming recorder is a must-have indeed.
This portable charger is a boon for your laptop and is well equipped to handle the cause of your battery-hungry gadget. Power packed to keep you on the move for an extra 2-5 hours (in line with your laptop's specification) , the Power Gorilla laptop charger works with devices up to 24Volts : from your laptop to iPod and smart phone.
You just need to select the right voltage that matches with your device (24V, 19V, 16V, 12V, 9.5V, 8.4V or 5V) and a small LCD screen will flash your chosen setting ; just connect your laptop or device in and you are good to go.
It also allows you to daisy-chain, so even as your laptop is getting charged with the PowerGorilla, you can connect to the mains power supply or charge your mobile phone and laptop simultaneously.
This is a wonderful accessory for professionals and businessmen working all day long on laptops to execute their day to day processes using technology. Whether it is a daylong car trip or you are relaxing in bed, this LapGear is perfect for computing, reading or writing. Even if you want to watch movies for hours, this is sure to provide a comfortable set up for you.
This Notebook Lap Pad is ideal with lightweight and strong built. It includes right / left mousepads and wrist rest with neoprene padding. It is equipped with side storage pockets and contoured design. There is lap shield added to it for extra safety as well as to block heat and EMI/EMF to get transferred to your lap.
So, no matter whether you are a student or professional, you can enjoy great comfort and style with this LapGear Deluxe Computer LapDesk (45492).
MeElectronics Atlas Orion
MeElectronics is a brand known for its high end digital audio players for tablets and smart phones and has since created a niche market for inexpensive and decent headphones as well. With Atlas Orion in your laptop bag, you get easy access to a comfortable set of earphones that boasts of decent audio; at a reasonable price point.
These earphones have a classy understated style and their exclusive blue detailing and silver look is designed to catch the eye of one and all. Though slightly more angular and guardier than higher end earphones, it consists of some interesting features like a detachable cord¸ foldable ear cups and universal volume control.
Logitech Z 313 Speaker System
If you love to tap your feet to loud music and are looking for great ways of enhancing your musical experiences, then you may like to invest in the popular Logitech Z 313 multimedia speakers that provide deeper bass and room-filling sound for your PC entertainment. This entry level 2.1 multimedia speaker system:
Has a control pod that makes it easy for you to control the headphone and volume.
Fills your room with balanced sound (25 watts).
Comes with a compact subwoofer that fits into tight spaces and generates deeper bass when you feel like thumping the beat.
Is easy to setup and plugs the subwoofer into your laptop / computer.
RHA MA450i in-ear Headphones
RHA MA450i budget in-ear headphones are for those of you who like to flaunt less and are happier with discreet laptop accessories that deliver high quality sound and block out background noise; without being too bulky or cumbersome to carry around. This aluminum noise isolating in-ear headphone with microphone and remote is designed like a trumpet bell and produces well balanced, richly detailed sound for Apple and other compatible devices.
Its RHA 130.5 driver operates in collaboration with the material and shape of the MA450i and offers warm, relaxing sound coupled with the highest levels of clarity. Go for it.
Pen, laser pointer and stylus in one. Equally at home with a projection screen, paper or touch screen, the Griffin's Stylus is one of the most coveted laptop accessories on the racks and is a must for all users. Complete with a built-in ballpoint pen, it contains a soft rubber tip balanced pointer that is custom-designed to act like your finger. If you are prone to leaving behind fingertips and smudges on your screen, then this product is definitely for you.
Along with giving enhanced control over all touch screen operation, it is the perfect device for drawing, photography, sketching, flight simulator apps……. All places where you require a finer control of your fingers.
This super-handy and highly efficient stylus also has an integrated clip that's appropriate for your pencil loop or pocket clip. Its features include:
An omni-directional, high-sensitivity point that refrains from scratching or smudging your touch screen.
Useful for all apps that require higher levels of comfort and control.
Built-in laser pointer which is appropriate for screen presentations.
A Refillable ballpoint pen that uses Mini D-1 Ballpoint refills.
So, what are you waiting for?
Get ready to add these and many more helpful laptop accessories to your digital life—you will not be disappointed!