In looking at the best waterproof iPhone cases, one would think to include Apple had already addressed the issue when it built the phone itself.  After all, the iPhone is without a doubt one of the best tech gadgets with a popularity that has grown world wide over the years. However, iPhone has one major disadvantage; it's not waterproof and is therefore, susceptible to water damage. So, that opens the winning positions in terms of being water resistant to other carriers and phones!  For example, the Nokia Lumia 800 and Samsung Galaxy S5 can withstand water. Therefore if being around water AND having an iPhone is part of your plans, choosing the best waterproof iPhone case is critical because the cost of repairing or replacing an iPhone that has been damaged by water is high.
If you need to keep your iPhone safe and protected from water damage, you need to shop wisely for the best waterproof cases available on the market. There are different types of cases available; however, the list below outlines some of the cool waterproof cases for  aniPhone. This list focuses on cases that can be used on iPhone 4/4s, iPhone 5/5s and iPhone 5c. Please note that these same cases also exist for iPhone 6 models.
The Otterbox brand is one of the most successful and trusted brands having won the Best of CES 2014 Award. This best waterproof iphone case is described as a solid and quality product that is worth every coin. Otterbox Preserver comes in a range of four colors giving consumers the freedom to choose their preferred color. This waterproof case is available for iPhone 5, iPhone 5s as well as a similar model for iPhone 4/4s. Some of the advantages of Otterbox Preserver include; two-piece case that protects the phone from shocks, a lanyard that attaches the phone to you, drop-proof from 6.6ft, IP-6X rating for protection against dust and IP-X8 rated (waterproof up to 6.6 ft for 30 minutes).
The disadvantage of this iPhone case is that it provides no additional storage for keys or cards. Also, some keys are hard to operate when the case is on and you must be ready to spend more money compared to other cases.
This iPhone case is commonly known for its slender profile and is loved by iPhone owners with smaller hands. This best waterproof iPhone case is similar to Otterbox Preserver and comes in a choice of four colors. It was also the first to be launched for the iPhone 6 brand enabling users to benefit from guaranteed protection from water damage. This case is available for iPhone 5/5s and iPhone 6.
Some of the advantages of Incipio Atlas include a 1-year warranty for water damage, IP68 water-resistant for 30min (up to 2 meters), drop-proof from 2 meters and excellent sound quality.
The cons are a 1-year limited warranty for US only, difficulty to operate toggle button and install the case.
Nuud case is a unique best waterproof case because it lacks a screen protector. When using this case, your iPhone screen sensitivity will not be interfered with since the case fits perfectly around the screen creating a waterproof seal. From afar, it's one of the best and coolest waterproof cases for iPhone and also has impressive reviews.
LifeProof is popular because it has a wide collection of cool case accessories that include flotation devices and armbands for water photography. If you're looking for the best waterproof cases for iPhone, Lifeproof Nuud is ideal because it has cases for iPhone 5, iPhone 5s, iPhone 5c, iPhone 6 and iPhone 6 Plus. This case is waterproof up to 6.6 feet which is a good thing but on the flipside, your color choices are limited.
Unlike LifeProof Nuud, the Fre case is designed with a built-in protector and has been in existence longer than Nuud. Many users are more comfortable using the Fre because of the screen protector at the front of the case. In terms of color variety, LifeProof Fre comes in 10 different colors so you can select a color that matches your personality. For iPhone 5s and above, TouchID is supported. These best waterproof cases for iPhone are very comfortable; however, they're more expensive and you need to be willing to spend to own one. Aside from being waterproof, they're also shockproof and snow-proof. This case is available for iPhone 4/4s, iPhone 5, iPhone 5s, iPhone 5c and iPhone 6.
LifeProof Fre costs less than Nuud, is fully submersible up to 6.6 feet and comes with an anti-reflective optical-glass camera lens. For the cons, the case negatively affects the call quality and speaker output, makes it hard to access ports and cleaning the case is complicated.
If you're interested in less expensive waterproof cases, this Griffin case is the best option and the cheapest in this list. When buying, you have a choice of 3 colors to choose from. Its superior depth protection capabilities make it ideal for taking cool underwater photos. Griffin is a trusted brand with good reviews and is available exclusively for iPhone 5. The price depends on the color you decide to choose. Aside from the impressive design, it comes with a headphone jack and lanyard; it's also waterproof up to 3 meters (9.8 feet).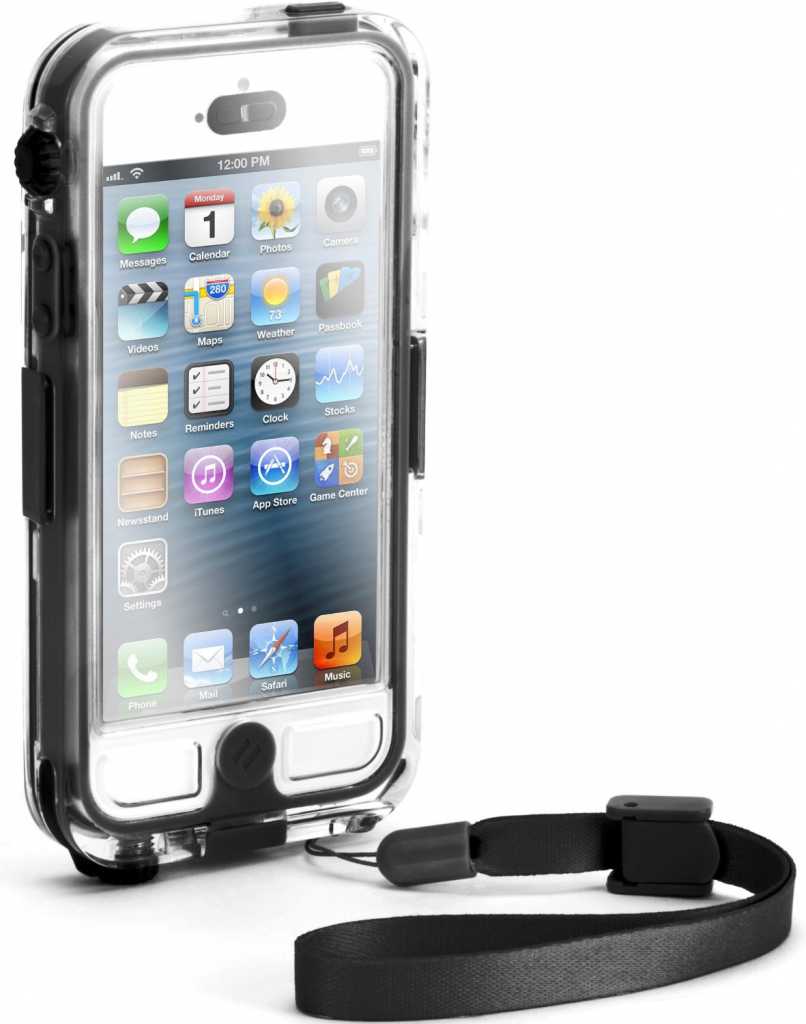 The main cons of this waterproof case are complaints of the case interfering with camera quality, texting and call quality.
This is one of the cool waterproof cases for iphone that not only provides waterproofing but acts as a battery booster as well. If you happen to spend a lot of time near water but lack charging facilities nearby, this waterproof case is an excellent option for you. Using iBattz Mojo Refuel Aqua, you can stay at the beach the entire day and still maintain a fully charged phone.
This case is available for iPhone 5/5s and iPhone 6. The coolest thing about this case is that it is IPX8 certified, has an interchangeable 2200mAh battery, is a childproof case and is compatible with tons of accessories such as clips and bumpers. You'll be disappointed if you love colors because it offers limited choices, has a higher price tag and is bulky.
Cascade Designs E Case is a perfect choice for iPhone users who treasure the beauty of their phones and would want to maintain the same. Using this waterproof case, your phone remains safe while allowing you plenty of freedom to maintain the same case for future models. With a choice of 7-color options, buyers are spoiled with all the options!
This contender for best waterproof iPhone case is also simple to use and as mentioned earlier, can comfortably work on different iPhone models. The disadvantage of this device is it doesn't have an extra padding to protect the phone, its only waterproof for 1 meter for 30 minutes and lacks a flotation device; if you need one, you have to attach it yourself.
These are some of the best waterproof cases for iPhone that exist on the market. The list above comprises of some of the most popular and top rated waterproof cases. There are several iPhone cases out there; do your research well and you are sure to find one that is perfect for what you need!
Leave comments below! We'd love to hear what you think ~