(Updated June, 2017) Trying to find the best laptop bags to keep your laptop or tablet safe? We've found some really cool laptops bags that you might want to check out. The first priority when you're looking for laptop bag should be maximum protection. Keeping your laptop safe is important for your machine's durability.
However, you don't need to be ordinary and plain when choosing your laptop bags. Nowadays, you can be creative and choose a cool laptop bag such as a chic messenger for about town errands or a rough-and-tumble backpack that is designed beyond general everyday use.
Whether you're a professional, teacher or student, you most likely need to carry around a laptop and other "things" for your daily needs. Finding the best laptop bag that fits your fashion style and personality can be an uphill task. This is because cool customized laptop bags including the best laptop bags 2017, or prior year reviews from 2015 or 2016 are mostly available in online stores; you don't get an opportunity to try out a cool laptop bag before buying it.
If you're planning to shop for the best laptop backpack online, make sure there are plenty of photos of both the inside and outside of the bag to have a good idea of exactly what you are getting. Also, it is wise to carefully examine the specifications of the bag and see whether they meet your expectations. Seriously, get out a tape measure so you know what 12 inches really is…..not just guess!
Some the of best laptop bags can appear larger than their actual size when you see them online. The best way to ensure you have a perfect fit is to check and verify the width, depth and height of the bag. Last but not least, take into account your daily needs and lifestyle. If you carry your laptop alongside paperwork and books, it may be better to go for a backpack over a note or messenger bag.
Below are 8 best laptop bags that are not only fashionable but stylish and practical. They also meet the cool laptop bag criteria as well, and that was a harder task we found when choosing them! They are designed with safety and comfort but at the same time, they ensure you have an easy and safe time carrying your laptop. Quality laptop bags don't come cheap; but this list has budget friendly options for those who want to grab attention they moment they step out the door.
Best Laptop Bags – 8 Top Picks for Cool Laptop Bags:
Lencca Alpaque Duffel- Mustard Yellow & Cool Camel Luggage Laptop
This cool laptop bag is a perfect fit for users who own Apple MacBook Air 13' & 11' inch. The Alpaque Duffel is multipurpose having both a carryall duffel bag and a laptop compartment.
If you're looking for the best laptop bags for travel, this bag is a wise choice because you can carry it comfortably on flights. The laptop section can fit 15.6" laptops allowing you room to safely store different laptop sizes. Compartment cradles are positioned in such a way that they can comfortably hold even the smallest laptops. The interior has eight compartments which include six patch pockets and one zippered pocket for storing sensitive items.
This best laptop bag is created with two of Lencca's prime materials which are water resistant and durable. This bag can actively repel liquids and therefore, does not allow any single drop to penetrate the bag. The textured Eco-leather was chosen for its sensory experience; it also enhances style and comfort.
BfB Laptop Notebook Computer Shoulder Bag for Women
This cool laptop bag is designed by a woman for women users. It is light in weight and is designed for busy working women. For women looking for fashionable, trendy and stylish best laptop messenger bags, this central zipped bag has a padded laptop sleeve that can comfortably carry HP, Apple MacBook Pro, Toshiba, Dell ranging from 13, 14, 15, 15.6 to 17 inch laptops.
You don't need to worry about straining and aching shoulders because this cool laptop bag is manufactured from gorgeous faux snakeskin and patent leather to add quality and glamour. The BfB laptop bag is ideal is suitable for airport travel and is ranked as one of the best laptop bags for travel for women. This Women's Business Bag as it's commonly referred to has different compartments for storing your business cards, credit cards and sunglasses. There is also a cell phone holder and a clip for storing your chains and key rings – you don't have to worry about losing your keys again.  Now, that definitely makes it one of the best laptop bags for travel!
Aside from being a comfortable fit over your shoulders, it has plenty of room to carry both personal and business accessories in two side compartments.
PLEMO Nylon Lycra Fabric 13.3in Laptop or Notebook/Macbook Briefcase Bag
If you're looking for unique and best laptop bags with style and variety, PLEMO Nylon Lycra Fabric laptop bag comes in black, red and blue colors.
When it comes to safety, this cool laptop bag has a nylon lycra fabric lining and a foam padding layer for bump and shock absorption. This not only protects your laptop when it drops but it also prevents accidental scratching.
This laptop bag has side pockets that are useful for storing tiny items such as pens, cables, power adapters and notepads.
Thanks to the top handles, you can comfortably carry your laptop and tuck them away in the pockets if you don't need them.
The bag is suitable for laptops, ultrabooks and notebooks that range between 13 -13.3 inches.
For a classic look, we'd add this one to the best business laptop bags category.

Hotstyle 902s Classic Canvas Vintage Rucksack for Laptop Backpack Shoulder Bag
The super classy exterior is no doubt attractive for users who appreciate style and elegance. The distinct vintage look of the Hotstyle 902s Classic is achieved thanks to colors colliding. Speaking of colors, there are several styles and colors to choose from.  So you could have one for all your outfits!
If you love sturdy and comfortable laptop bags, this is the best choice for you. Designed to meet Japanese manufacturing standards, it has a thick durable bottom, padded laptop pocket with an adjustable secure strap and drawstring closure included to guarantee use for extended periods of time.
The shoulder straps are made from two layers to ensure maximum comfort and make you feel less pressured especially if you're carrying a heavy laptop.
This cool laptop bag also has a side zipper to allow for easy access especially when you need to pick something quickly. If you're interested in a bag that has plenty of room, you will not be disappointed. Aside from the laptop pocket large enough for a 15.6 inch laptop; it has extra space to keep textbooks and other school and work items such as binders, pens, pencils, calculators etc.
Its multipurpose capabilities make it one of the best laptop bags for travel. You can go shopping, traveling, hiking and to the gym to name just a few options with this one your back.  So for students trying to figure out what might be the best laptop bag for students, this one ought to make that list!
Fshb13-009 COOL BLACK Laptop/Notebook Computer Shoulder Bag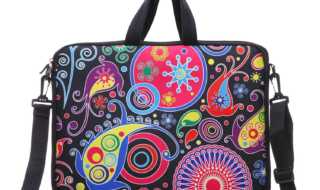 If you own a laptop that is: 12", 12.1", 12.5", 13" and 13.3" inches, this is no doubt one of the best laptop messenger bags that have an extra side pocket and a removable shoulder strap. Plus, it comes in over 12 styles and colors so you're sure to find one that you love!
Some of the laptops/netbooks it can comfortably carry include; Acer Aspire, Samsung Ultrabook, HP, Dell, Sony, Apple MacBook, Asus, Lenovo among others.
Manufactured from 100% high quality diving material, it comes with a zipper and an external pocket where you can keep USB, mouse or adapter. It also has an adjustable shoulder strap to ensure comfort and easy carrying. You don't need to worry about safety because the impressive design aims to safeguard your computer from scratches, extrusion, splashing water and other risks.
One of the most notable features of the Fshb13-009 Shoulder Bag is that it can be easily cleaned, it never fades and it dries quickly. If you're looking for a cool laptop bag that is well designed to meet your needs, this stylish and fashionable brand is a good choice.  Definitely like the funky, fun style of this one!
Mancro Business Water Resistant Laptop Backpack w/ USB Port

Ever been going to or from the office with your laptop only to be caught in a downpour?  This cool laptop bag can help you keep your precious laptop dry and safe and look stylish doing it!
The Mancro Business laptop backpack holds Laptops less than 17 Inches and comes with 3 main pockets plus 9 small pockets. 
It also comes loaded with 2 sealed side pockets so you can carry your laptop, phone, tablet, pen, keys, wallet, books, clothes, bottle and more.  I think that covers just about anything you could want to load into your laptop bag, right?

AmazonBasics 15.6-Inch Laptop & Tablet Bag
The AmazonBasics Laptop bag is a #1 best seller on Amazon, no surprise there is there? ???? While it definitely doesn't hit the criteria for stylish and fun laptop bags and cases, it's a work horse.  It has a slim, compact case which perfect for carrying laptops that are up to 15.6 inches and there's no bulky bag.

Like other laptop bags, this has a few additional storage pockets that can hold the accessories we all college.
Tomtoc 360° Protective Laptop Sleeve for 13 Inch Laptops

Ok, so the Tomtoc 360° is not actually a laptop bag, but it is still super impressive so we're adding it!

It's designed for up 13″ laptops and up to that size of tablets.  What makes this pop (besides the 5 different colors and styles that it comes in) is the CornerArmor that is in the bottom and the 360° protective ridge around the interior that will protect your laptop in any accident like the AIRBAG in the car to name a few stories that we've heard.
It is definitely extra-durable and has a wipe-clean synthetic finish which makes keeping the sleeve presentable and in top condition with little effort
For those that want to carry a few things, it features a large, nylon side-mount pocket with  for smaller items such as your smartphone or other laptop accessories. 
The above are some of the best laptop bags selected based on design, style and practicability AND that are cool laptop bags as well! As mentioned earlier, before embarking on purchasing your cool laptop bag, ensure you understand the measurements of the bags so that you know it will fit what you want to include.  Which of the best laptop bag options would you choose?  Let us know!
If you enjoyed this post, please share it on Twitter or Facebook, stumble it on Stumbleupon or pin it to Pinterest!  Share buttons above and thank you!