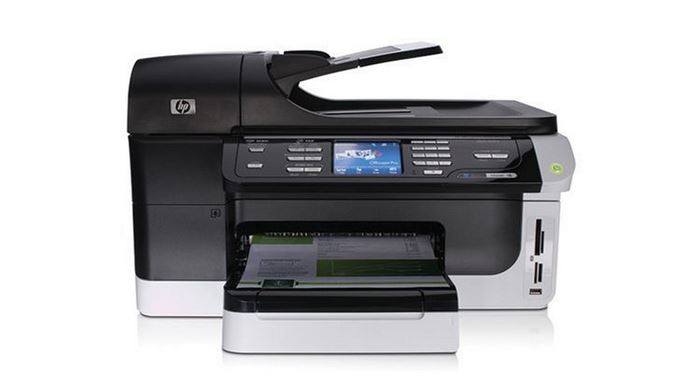 (Updated April, 2017) The HP Officejet Pro 8500 wireless is an all in one printer that comes with built in wireless and wireless networking. The two sided printing saves paper with add on features like color LCD screen, color photo printing, auto document feeder and memory card slots. HP Officejet Pro 8500 wireless is a perfect printer for a small business and home office. This high quality printer can help you scan, print, fax and copy in a professional style. Hewlett Packard's Office jet 8500 printer sets the standards high when it comes to features despite being small in size.
The Office Pro 8500 has a larger capacity paper tray, measuring 19.45 inches wide by 18.86 inches deep and 13.03 inches tall. This printer is bulky because of its existing built-in features that include:
50 sheet document feeder,
sizable scanner bay,
auto duplexer
It's possible to pair the HP 8500 printer to a computer via three different methods;
Thru a network with new built in Ethernet port,
802.11b/g networking or,
Through a direct connection using a USB 2.0 cord.
The process of setting up a wireless network with this printer is tedious because it requires special network configuration and systems. However, Office Pro 8500 comes with an onscreen guide that takes you though the setting up process making what could be painful much easier.
The 250 sheet input drawer is fixed into the machine but the top comes off every time you refill. You can even extend the tray outward to create more room for A4 and legal size paper. Since this printer is aimed for the business market, it can run up to 15,000 pages per month which is more than enough for a small business or home office.
HP Officejet Pro 8500 scanner comes with onboard character recognition software that allows the scanner to interpret graphics to editable text. Office Pro 8500 wireless features a comprehensive automatic duplexer, 10/100 ethernet and web interface among other features. HP's 8500 printer has separate print heads to reduce costs. The heads are easy to replace in case they become blocked. When you switch the printer on for the first time, it takes about half an hour to charge its ink reservoirs and to align its print heads. So grab a cup of coffee before you start!
The HP Office Jet Pro 8500 produces mono text prints compared to other printer brands. It prints at 15.6ppm and its color print speed is 5.2ppm. The color print quality is outstanding even on cheap 80gsm paper while on a thicker paper it even produces even higher quality results. When it comes to the scanner's software, the software interface is poor with the key hidden several mouse clicks away. Fortunately, it's possible to configure the scanner to scan files to a particular format which is more convenient.
According to HP, the HP Officejet Pro 8500a can print at half the cost of a color laser while producing prints of a similar quality. Many people who have used this printer say that it's more power efficient as well. This printer might be expensive to buy but it's definitely cost effective to run. With awesome document quality, fast printing and low ink costs, the HP Office Jet Pro 8500 wireless is an ideal business or home office buy.
Features
-All In One Printer with Wireless 802.11g Networking
-Laser Quality Speed Up to 15 ppm Black/Up to 11 ppm Color and Maximum 35 ppm -Black/34 ppm Color
-3.4 in Touchscreen LCD Display and Up to 2400 x 4800 dpi Scan Resolution
-128 MB Memory and 348 MHz Processor Speed
-250-Sheet Paper Tray, 50 Sheet Automatic Document Feeder, and Automatic Two Sided Printing
-Web interface
-Automatic duplexer
-10/100 Ethernet
-802.11b/g wireless
-250-sheet paper tray
-Optional printer interfaces: Bluetooth adaptor (Q6273A)
-Size: 331x494x479mm
-Weight: 12.7kg
-Noise in normal use: 59dB (A)
-Duty cycle: 15,000pages
-Maximum Number of Copies: 99
-Fax Memory: Up to 125 pages
-Speed dial: Up to 99 numbers
-Display: Touch-screen
-CGD Networking: Standard (built-in Ethernet, WiFi 802.11b/g)
Pros
Save on your in-house color marketing materials (Office pro 8500 saves up to 50% by printing color)
Top performance to keep your business growing (print up to 500 sheets without reloading thanks to a second 250-sheet paper tray)
Cut the energy use. Hp officejet pro 8500 wireless consumes up to 50% less energy.
Offices pro 8500 produce high impact without a copy shop using HP print view software.
Cons
This printer is quite expensive
It can be slower than other options when scanning
HP Officejet Pro 8500a has a somewhat time consuming installation process
The printer has a boxy stodgy design due to the inclusion of so many features

HP Officejet Pro 8500 Wireless Video Review
Conclusion
If you are looking for an ideal printer for your business or home office, HP Officejet Pro 8500 is a perfect choice. This printer might be expensive to buy but it's definitely cost effective to run. With awesome document quality, fast printing and low ink costs, your HP Office Jet Pro 8500a wireless is an ideal business buy.