We decided to find out which laptops, particularly gaming laptops, under $400 are the best. Our goal was to detail the best features available at an affordable price. Not everyone has the budget to afford a high-end gaming laptop, but this list provides you with quality, yet low-budget, laptops that will allow you play a variety of both old and new games. You just need to know what to look for and which options might work best for you to get the most out of your laptop, including playing games.
Best Laptops Under 400 – Features & Factors to Look for in the Best Gaming Laptops Under $400
When choosing among the Best Gaming Laptop Under $400 options, we need to consider the processor and graphics chipset to make sure that the laptop has enough power to run MMO (massively multi-player online) games and more recent games without there being any noticeable lag. We've done the research for you to bring you the best gaming laptops under $400 in 2017.
Hardware Specifications of Best Laptops Under $400 – Minimum Requirements to Aim for

 Processor
Intel Core i3 5th Generation or Above
 RAM
4 GB RAM
 Storage
500 GB 5400RPM Hard Drive
 Graphics
Intel HD Graphics
 Display
1366 x 768 resolution
 Operating System
Windows 10 Home 64-bit
 Battery Life
4 hours minimum
Lenovo G51
The Lenovo G51 has a delightful 15.6 inch display, and the 1366 x 768 resolution offers vivid and vibrant colors that makes watching movies and playing games on this laptop all the more enjoyable making it one of our favorite best gaming laptops under $400.
This laptop has a built-in CD/DVD drive and all other required ports and features. It has a durable keyboard with a number pad and precision touch pad mouse with multi-finger gesture support. The Lenovo G51 is powered by a 2.2 GHz AMD A8 processor, which is an uncommon processor to spot in cheap gaming laptops under $400, so that's a nice feature to find. It also has 8GB of RAM which will give you rich, smooth performance while using Windows 10 on this laptop.
The Lenovo has 1 TB of storage space so you can store hours of TV shows, motion pictures and your favorite games on this laptop. Lenovo's G51 is an especially effective laptop for performance because of its dedicated AMD Radeon R5 Graphics. Playing MMO games like "CS:GO" and "DOTA 2," and anything else that you need for school or work, will be a breeze.
HP Specter X2 12-a009nr
The HP Specter X2 is a small yet powerful laptop with a truly extraordinary look. The HD screen allows for excellent video quality, making this a great movie-watching laptop. The detachable screen feature makes it all the more enjoyable.
This might not be the strongest laptop on our list, but it definitely has enough power in it to run small MMO games, which makes it a great addition to this list. Furthermore, the SSD drive makes it considerably faster than some of the other Best Laptops Under $400 dollars.
We were genuinely astonished to discover the HP Specter X2 fell into our price range, considering its the high specs, which include Intel Core M5, 4GB RAM, 128GB SSD, and a detachable touch screen.
HP Pavilion X360 2-in-1
This HP Pavilion notebook looks like it might be best for work or school. Be that as it may, we've included it here for the many features that make it a reasonable choice for gamers.
With a 500 GB mechanical hard drive and bigger measurements and display. Intel Quad Core Pentium N3710 1.6GHz processors; 7GB of RAM; a 11-inch, LED-backlit, brightview display; and the rich sound quality all converge to make this a machine that is designed to provide the graphical power and sound quality you need to make the most of your MMO experience.
It also has a front-facing HP TrueVision HD Webcam with integrated dual array digital microphones. With a 500 GB hard drive, you'll have all the space you could possibly need, and that is important if you want to contain all of your media and games. With those features, this HP makes the cut for our list this year!
Dell Inspiron 3000
Released this year, the 2017 New Edition Dell Inspiron 3000 Premium is now a huge hit among Dell fans. Dell is a company known for its highly dependable, practical, mid-range laptops, and this laptop is no exception.
And with its lengthy battery life means you won't have to remain fastened to a charging link all day. This cheap gaming laptop can be used for both gaming and college life. You can go from classroom to dorm or from work to home and still have all the power you need.
This is a standout amongst other laptops under $400. It has every feature you'll need to play new games on low-mid settings. Between the speed, usefulness, and screen resolution, this Dell laptop won't break down, regardless of whether you're utilizing it for gaming, school or at work.
This IdeaPad laptop from Lenovo is a standout amongst other laptop under $400. It has an enormous 17.3 inches of LED-backlit display which delivers a great array of hues and high resolution gameplay. It comes pre-installed with Windows 10, which runs efficiently and smoothly by working with its 2.3 GHz Intel i3 processor and 4GB of RAM. It offers a 1TB of hard drive on which you can store all your required data, media and games.
Even though this is designed to be a high-end gaming laptop, it allows you to play a variety of the best games, such as "Counter Strike." This laptop can likewise be utilized for photograph or video editing thanks to the massive display. However, it's large size makes it a little cumbersome laptop at 6 pounds.
By and large, the Lenovo Ideapad 300 is the best laptop under $400 for individuals who are searching for budget laptop for photography, video editing, some gaming and professional use while being OK with handling a bit of extra weight.
HP Pavilion 15 Inch
While this is at the high 400 range at the time we checked, we still thought the HP Pavilion 15 inch ought to be considered here because of it's specs and performance.
This notebook from HP is best for your day-to-day assignments and just casual gaming, making it an entry level gaming laptop under $400. On the off chance that you are searching for a mix of work and play in your laptop, then the HP Pavilion 15 is ideal for you.
It has the seventh Gen Intel i5 processor to help up performance by saving battery which allows you to work longer. It comes with Windows 10 pre-installed and has 8 GB of RAM, which allows each program run smoothly without any issues.
It has 1 TB of hard circle storage, so you can save all your work and media to this laptop. This HP is truly one of the sturdiest and well-constructed laptops on this list, and it's ideal for travel! Its strong form and intense hardware make it a great laptop under $400.
Dell Inspiron I5566-3000BLK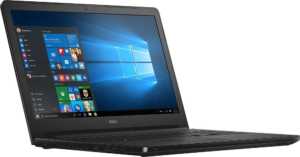 While the Dell Inspiron I5566 display may not support full-HD, but it manages to provide high-picture quality and striking hues for a truly enjoyable streaming and gaming experience. While the lower resolution display offers less onscreen space, it wins back a few points with its touchscreen features.
To guarantee that you can run high-end applications without worry, the Dell Inspiron I5566-3000BLK features a seventh generation Intel Core i3-7100U processor. Moving down the processor is 6GB of memory, though this will be pushed to the limits if you intend on playing high-end games. The slower 5400rpm HDD storage drive does slow down the file transfer rate considerably, but considering the variety of features in this cheap budget gaming laptop, the trade-off seems reasonable.
Lenovo Z50
The Lenovo Z50 is a high-performing laptop designed to provide any gamers with enough power to enjoy a variety of games without worrying about lag.
The thin notebook uses a mix of AMD graphics (AMD Radeon R7 with shared graphics memory) with a considerably powerful AMD processor (AMD FX-7500 Quad-Core processor 2.1GHz, with Turbo up to 3.30GHz), HD display for quality screen resolution when gaming or viewing HD videos. Its Dolby-upgraded sound framework makes for strong, stable quality and is another component that adds to its effectiveness as a gaming laptop.
This laptop can also be very useful for multitasking, thanks to its massive 8GB RAM. In addition, it comes loaded with 1TB of hard drive memory, which is exceptionally effective for mass storage of games, films and whatever other type of information you consider fit. Definitely worth considering for both in school as well as after school activities as it fits many requirements, making it the best personal laptop under 400.
Lenovo Flex 4 Convertible 2-in-1
The Lenovo Flex 4 Convertible 2-in-1 is savvy considering its price in comparison to its performance and features. Though 2-in-1 laptops don't offer enough performance for serious gaming, their 360-degree flip and fold design makes them perfect for when you're on a budget and want a laptop that does a bit of everything.
Its Intel Pentium Dual-Core 4405U processor is sufficiently dependable to provide high performance for some games and makes it ideal for student use. The graphics are not first-class but are comparable to, if not better than, some other laptops in this price range. The Lenovo Flex comes with 500GB storage space and its 4GB RAM are ideal for running various application effortlessly. It's also worth mentioning that Lenovo Flex 4 has a battery that can last up to 8.5 hours!
Asus F555LA-AB31
This Asus F55LA laptop has a 15.6-inch HD display, which is brighter and vibrant, providing a great movie and gaming experience. It has an aluminum chassis finished in brushed silver and dark shading that resembles Apple's MacBook Pro and says a lot about this laptop's quality.
It has every single required port, including USB 3.0, Ethernet and HDMI. It is powered by Intel's fifth generation i3 processor that keeps everything running smoothly. This laptop, like the vast majority of other laptops in this price range, comes with 4 GB RAM and 500 GB hard disk, but it also has a DL DVD±RW/CD-RW, which makes it a superior choice among the best gaming laptops under $400!
Well, we've covered our selections for the Best Laptops Under $400. Have you found one that works for you?
So if you were wondering, "Can I get a good laptop for 400 dollars?" The answer is yes.  Based on our reviews, there are a variety of affordable gaming laptops that allow for versatile gameplay and provide enough functionality and features to double as school and work laptop, if that's something you need as well. The days of having to spend thousands of dollars for a decent laptop are in the past—now you can find high-quality laptops at affordable prices that do all you need and more!