(Updated August, 2017) Trying to figure out which is the best air conditioner brand for your home?  Summers seem to be a hard time to deal with, without having the cool air from strategically placed air conditioners but having air conditioners or AC also means getting a hefty electrical bill at the end of the month.  So finding the best air conditioner brands and affordable models can make a huge difference!
The market is full of established as well as newer brands that have made a mark in the cooling market with various models of air conditioners, both window and split. Many users indeed now prefer split AC because of their compact size.
For that reason, we're reviewing several of the best air conditioner brands that make our top list.  Now you can make up your mind to choose the one that suits your needs perfectly.
So, Here Are the Top Air Conditioner Brands 2017
Panasonic Air Conditioners:
Panasonic is one of the largest air conditioner providers and has made a name for itself as a company that can provide a service for everyone. Panasonic provides several different kinds of air conditioners, which include an inverter multi-split, ducted, split, and under-ceiling air conditioners that are made and meet anyone's high standards.
The extensive range of Panasonic air conditioners, coupled with consistent high quality, makes Panasonic one of the best central air conditioner brands.
Panasonic Exterios E 12,000 BTU Ductless Mini Split Air Conditioning and Heating System
If you're looking for the best air conditioner for home, then this Panasonic Exterios E 12,000 BTU Ductless Mini Split Air Conditioning and Heating System is definitely worth your time.
With impeccable cooling and long-lasting performance, this air conditioner is ideal for saving energy and delivering the finest cooling for any home. (Available in the United States)
Panasonic ECONAVI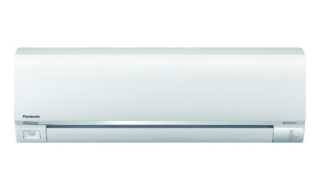 The Panasonic ECONAVI is an indoor wall unit. Its compact size delivers a stunning 9,000 BTU cooling and 13,000 BTU heating capacity, making it the ideal day and night air conditioner.
This AC uses the ECONAVI sensor data, which detects unconscious waste of energy, and varies compressor rotation speed to maximize cooling while minimizing energy consumption. (Available in the United States)
Panasonic CS-YS18RKY
This is a 1.5-ton AC from Panasonic which means, as far as cooling is concerned, you have nothing to be worried about – it will get the job done!
The Panasonic CS-YS18RKY Inverter Split AC has a 4-year warranty on the compressor and provides 50 percent more energy savings compared to other ACs in similar price ranges. (Available on Amazon.in)
Panasonic CS-KC12RKY1 Split AC
Though the Panasonic CS-KC12RKY1 is a 1-ton AC, its 5-star cooling rating it makes it one of the best air conditioners for your home.
This AC has a PM25 removal rate of 85 percent, which means you'll truly be able to enjoy a dust-free environment! With its compact size and high-end cooling, this AC will look great in any room!
Whirlpool
Whirlpool is an industry leader when it comes to home appliances, and its air conditioners are no exception. Whirlpool is one of the few companies that is experiencing international growth, and rightly so. The quality and variety of products that Whirlpool provides is some of the finest in the industry.
They produce a wide variety of air conditioners that have something to offer for everyone, and they provide consistently high-quality products, making them one of the best central air conditioner brands.
Whirlpool 14,000 Btu Dual-Exhaust Portable Air Conditioner
This portable air conditioner by Whirlpool delivers exactly what you'd expect from a leading home appliance company. It's made to provide amazingly fast cooling thanks to its 14,000 BTU Dual-Exhaust.
The Whirlpool Portable AC has on-board digital display panels that make it easy to operate with a remote; this user-friendly product is one of the best portable air conditioners. (Available in the United States)
Whirlpool Energy Star 15,000 Btu
If you're looking for the best air conditioner window unit, then you've found it. Whirlpool Energy Star offers a stunning 15,000 BTU that will have you feeling cool faster than you can imagine.
Designed to provide the best possible experience, the Whirlpool Energy Star is easy to operate thanks to its remote control with LCD display, and it's perfect for conserving energy. (Available in United States)
Whirlpool 1 Ton 3 Star Split AC
If you're looking for an air conditioner to add more appeal to your room while delivering impeccable cooling, then this is one of the best central air conditioners you can find. With a stunning design and two digital displays, this is an absolutely gorgeous air conditioner that will look great in any room.
As a 3-star cooling AC, it provides cooling that is just as good as its looks, making for one of the best air conditioners for your home. (Available Amazon.in)
Whirlpool 1.5 Ton 5 Star Split AC
The Whirlpool 1.5-ton, 5-star Split AC is made using the latest technology and features, making it a great buy for anyone looking for functionality above all else. It uses new 3D Cooling Technology and 6th Sense PowerSaver Technology to cool the room faster than ever before while making sure that energy consumption stays as low as possible.
It uses an advanced filter that removes that provides PM 2.5 Filtration ensuring the removal of allergens and bacteria for a healthier environment for your home.
Honeywell is another great Air Conditioner manufacturing company that has recently decided to invest more focus towards its portable AC line-up rather than the generic split of window AC. Honeywell is well known for making Air Conditioners that are quiet, efficient and affordable which makes them one of the top 10 air conditioner brands.
Honeywell hasn't lost its charm over the years and the current line-up of its air conditioning products is more than enough to prove how they're pushing forward in a very saturated market.
The Honeywell MM14CCS is a great example of portable air conditioners done right. Rather than focusing on unnecessary features or designs, the Honeywell MM14CCS comes with a simple bucket design that's easy to move and is well-constructed adding some much needed durability. It has 14,000 BTU and a digital LCD along with a remote that makes it easy to operate and guarantees high-end cooling without exception.
The best part is unlike other air conditioners, this is an extremely silent AC with a powerful air flow making is the best portable room air conditioner. (Available in the United States)
The Honeywell MN12CES is a more affordable alternative to the Honeywell MM14CCS. This portable air conditioner offers 12,000 BTU along with the same easy to use features that make it a great choice for office use.
It has a powerful air flow and quiet operation along with 3 different speeds and an automatic timer making this one of the best portable room air conditioner. (Available in the United States)
Hitachi as a brand has always remained as a front runner in the manufacturing world, delivering top of class consumer products and air conditioners are one among them. The brand delivers high energy rating air conditioners that can keep you cool even in the hottest of summer days without digging a hole into your pocket. Some of the most popular air conditioner models offered by this reputed brand are:
Hitachi Kaze Plus New Window Conditioner–
Priced in the moderate price point, this air conditioner is great for small apartments where size really matters a lot.The specifications of this new model from the house of Hitachi are –

Vitamin C Filter
Fresh Air Ventilation
Self Evaporative System
On/Off Timer
LCD Wireless Remote Control
Easy Installation
3-Star Rating
Hitachi ACE Follow Me Split AC– Priced under 43K, this can detect your smallest body movement to direct the air flow towards you in a room. Some of its remarkable specifications are –
Anti-Bacterial Filter
4-Way air-flow direction
Dry and Cool Modes
Silent Cooling
Pre-coated Aluminum Fins
Follow me
5 Star Rating
The brand is known for its emphasis on innovation and energy efficient electronic products of high quality. You can also check out the new Sugoi split AC that comes with a 5 Star rating and Auto Power Save Mode.
Quite dominant in the market, this brand is a personal favorite of many in India as well as abroad due to its sleek design and extensive range of products that suits everyone's budget criteria effortlessly. In case of air conditioners also, LG rule like a King and some of the popular AC models offered by LG are:
L-Prima 1.5 TON HOT & COLD Window Conditioner– If you are thinking not to invest in a room heater for the coming winters then this air conditioner can be an ideal one to keep modest room temperature in any season. It comes with an official price tag of around 33,000 INR. Some of the bright features of this window conditioner are –

Dual Protection Filter
Dehumidification Mode
Energy Saving Mode
Digital Display
On/Off Timer
L-AURA 1.0 TON HOT & COLD Split AC– Sitting within the same price range as the one above, this air conditioner exudes great looks and gives you ultimate comfort throughout the year with a high style quotient. The notable features of this LG Split AC are the following ones.
Monsoon Comfort
Jet Cooling
3M-Micro protection filter
Night Glow Remote Buttons
Auto Restart
Dual Protection Filter
E saver Mode
Sleep Mode
There is also another Split AC model by LG that would be a delight to check i.e. the LG LSA5EW5V 1.5 Ton 5 Star Split Air Conditioner with 5 star rating and appealing looks.

Known for its breakthrough products, Samsung is an established brand with a high level of credibility in the market all over the world. Its products like Samsung mobile phones, refrigerators, TV sets and split AC are always known for their durability and improving life through technology. The brand offers air conditioners mainly in two categories.
Split AC – Samsung PentaStarMAX AR18FC5UAEB 1.5 Ton capacity split AC is the most popular Samsung Air conditioner and definitely it has some spark as it possesses some really endearing features like the below ones.
Temperature control for deep sleep
Impressive cooling even at 52 degree Celsius
Full HD Filter to collect dust
Multi-Jet Technology
Easy Installation
5-Star Energy Rating
Durable design

Floor Standing AC – Now, this is something quite new and interesting, but with a heavy price tag of over a whopping one lakh! Stylish and sleek Samsung AF28FVSDADFN 2.3 TON AC is good enough if price is not your concern at all. Some of its features are –
Turbo Jet Cooling
Attractive exterior
Energy Saver
Ice blue light when ON
Smart Sensor for reacting to movement
Centre, Direct and Indirect Cooling Modes
Soft Touch Control Panel

Conclusion
If you are looking for the best air conditioner brands and models, just about any of these will work well.  Determine your requirements and budget and you can quickly and easily start feeling better and a lot cooler this year!
Best Air Conditioning Brands in India – 2017

The brand Voltas has surpassed the long dominance of international AC brands like Samsung, LG, etc. to emerge as a leading brand for air conditioners in the India market since 2014. The well known brand of the illustrious Tata Group is now deeply trusted, when it comes to choosing the right air conditioner. The brand offers its air conditioners under surprisingly four categories mentioned below.
Split AC –Voltas 1.5 Ton MAGNA 185 MY Split Air Conditioner (White) is built elegantly and comes with a ton of features to ensure you sit in absolute comfort during those sultry summer days and evening. Some of the features are mentioned below:
Multiple filters to resist bacteria, dust etc.
Turbo, Sleep and Swing Mode
Anti-Fungal Clean
5050 W cooling capacity
BEE (Bureau of Energy Efficiency) 5 Star Rating
Window AC – Voltas Deluxe-5 Star (Y series) 1.5 Ton AC is stylishly built and highly energy efficient. It is affordably priced considering all of its features. Some of those features include:
Anti dust and negative ion filters
Fresh air ventilation
Large LED Display
Auto restart and auto swing
Turbo and sleep modes
Memory Function
Cassette AC – If you have large rooms or want an air conditioner for your office space, then Voltas Venture Cassette 4 TON can be an ideal solution.However, the price can be rather steep considering the amount of space that it covers. You can find some interesting features of this unconventionally designed AC like
Super quite compressor
Emergency operational switch
Automatic drainage of condensed water
Easily removable filter and advanced fan motor
4-way directional air-flow
Slimline AC – Venture Slimline AC is another offering from the prestigious brand and is perfect for your home if interiors matters to you most along with a comfortable cooling. It comes with many striking features like:
Compact size 480 x 1680 x 255 mm
Noise Suppression Technology
Child Lock Switch
Highly efficient compressor
Of all the above categories of air conditioners, Voltas is mainly popular for its split and window ac models.
Godrej is a well-known brand that needs no introduction particularly in the Indian consumer market because of its decades of successful trust building and impressive range of products like locking solutions, interior solutions, kitchen appliances, electronic appliances, etc. So, it is no wonder, Godrej is looked upon as the best split system air conditioner brands in India.
Although, the brand offers a decent Window AC of 1.5 ton capacity with a 3 BEE Star Rating, its Split AC Models are a hit in the market because of their super energy efficiency and charming looks. One such popular model is mentioned below.
Godrej EON Green Balance AC– Equipped with Green Balance Technology, this Split AC is extremely climate-friendly and cost efficient. Some of the features of this AC that are hard to ignore are mentioned below:
Free Installation By Godrej
High Energy Efficiency Rating
Auto Clean / Blow Function
Dry, Auto, Sleep & Turbo Modes
Silver Ion Filter
Memory Function
The AC is also designed brilliantly and has received the prestigious "Design Mark" award for 2013. So, if you are very particular about the aesthetics and energy efficiency then this one can be the best value for your money.
Blue Star is an Indian brand just like Godrej and Voltas. The brand has carved its own niche in the extremely competitive air conditioner market within a very small time frame. Some of the popular air conditioners of Blue Star are the following ones.
Blue Star Window AC 1.5 Ton 3 Star– Available in an altogether seven models of 1 ton to 2 ton capacity range, these popular window AC of Blue Star comes with power-packed features like

Multi-fan speed
Auto, Sleep and Dry Mode
Efficient Rotary Compressor
Anti-Freeze Thermostat
Filter-check LED
Remote control for an easy access
Blue Star Inverter Split AC– These air conditioners are elegant and are available in various models and capacity to suit your every need. Some features of the same are given below.
I Feel feature for optimizing user comfort
Multi-fan speed and multiple operational modes
Air Direction flow control
Eco-friendly refrigerant
Heat Pump to beat severe winters

Blue Star Verticool Split AC– Great for large commercial spaces or organizations like bank, education institute, etc., these air conditioners comes with the following features:
Powder coated exterior body
Wide angle air flow
Memory Function
Elegant design
LCD Display
Anti-freeze thermostat
Three-phase advantage

Blue Star Concealed Split AC– If you have a limited wall space, then this concealed AC offered by Blue Star can be a definite pick. It has some amazing features like –
Programmable Timer
Energy saver and efficient compressor
Availability from 1 Ton to 7.5 Ton
Fuzzy logic control
Time delay feature and low noise
The brand also offers Blue Star Cassette AC, which is not yet popular in the Indian AC segment.