(Updated September 2017) Selecting one of the best digital camera brands to capture your favorite or special moments is often daunting with so much to consider and so many camera brands available in the digital camera brand 2017 marketplace.  That's where we step in to help!
If you already know which particular brand and model you want to buy, it becomes easy – simply visit the store and purchase one or point and click your way (yes, play on words intentional) in cyberspace to the camera of your dream. But the problem arises, when we don't know which one we want from the range of best camera brands available via offline and online sources.
There's a ton of options for cameras as well as numerous brands to consider – and they range from offering budget to expensive cameras. And every camera is awesome when you start browsing the recommendations by the manufacturers, dealers or online portals. So here we bring you a guide to the Best Digital Camera Brands and what to look for when you plan to buy.
What Are the Different Types of Digital Cameras?
Let's start the analysis by breaking the various digital cameras into 3 different types in order to make your selection easier:
DSLRs: The Digital SLRs (or DSLRs) are an extremely popular option of camera with professional photographers.  These digital cameras have big sensors which allows for a better quality of photo compared to some other options.  In addition, DSLRs are able to switch out lenses depending upon what the photographer is attempting to accomplish. From tight lenses to wide angles, there are an incredible number of options available with this type of camera setup.  So if you are looking for greater control in your shots, this might be the option for you.
Compact Cameras: These are ideal for easy, fast clicks and highly portable. However, anyone with a desire to become a professional photographer or someone that wants to do more than "point 'n shoot", this option might not be the best one to consider.  You might find that you aren't happy with these types of cameras.
Mirrorless cameras: The sensors are sized like DSLR and these cameras have interchangeable lense options as well but they are designed in a more novice friendly way that are smaller and lighter – making them a more portable option when compared to DSLRs.
Now, would you like to know the best digital camera brands now that you know the various camera options available? Here are some of the best brands with top quality performance over the last year:
Best Digital Camera Brands List – 2017

This is a well known multinational company from Japan that is highly regarded in the world of digital cameras in recent years. They specialize in imaging and optical products like camcorders, computer printers and now are a pioneers in manufacturing DSLRs.
Being the global leader in digital camera brands, Canon is miles ahead of all its competitors for its technology, variety and market research.
This is one high end camera brand that is preferred by the most aspiring professional (and wannabe) photographers for the quality and features that the company offers.
Best Canon Cameras –
Canon EOS 5D Mark IV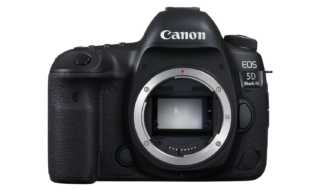 The EOS 5D Mark IV offers a ton of features that you count on having when buying a Canon.
This Canon camera provides the same high quality that users have come to expect, including stunning 4K video and photography.
30.4 MP full-frame CMOS sensor for greater versatility

Continuous shooting speed of up to 7.0 frames per second


61-point AF system with 41 cross-points for expanded vertical coverage

ISO range 100-32000 with expansion

Touch-screen LCD monitor

Canon EOS Rebel T6 – Best Digital Camera Under 500

Are you someone that just wants everything in one affordable bundle, ready to roll?  Then this is the camera that you ought to check out.  Canon's Rebel is everything that you need in one package.
From the camera to a few different lenses as well as the flash, battery and tripod  – It's all included making this the perfect gift for you or a photo taking friend!
Canon EOS Rebel T6 DSLR Camera Body

PLUS an 18-55mm EF-S f/3.5-5.6 IS II Lens 

58mm High Definition Wide Angle Lens 

58mm 2x Professional Telephoto Lens

Transcend 32GB SDHC Class 10 Flash Memory Card


Vivitar Digital Camera SLR DC59 Large Gadget Bag and a Tripod

And a whole lot more!
Found in 1917 by Nippon Kogaku Kogyo Kabushikigaisha, Nikon is another famous brand which has been credited for giving the era of digital cameras the first SLR cameras for NASA and is presently the second largest in manufacturing the imaging and optical products.
Nikon cameras are popular for their cutting edge features, sleek designs and the high quality pictures that their cameras deliver.
Best Camera Brands – Nikon
With a powerful 36.3-megapixel, full-frame image sensor, a speedy processor, the D810 FX is Nikon's leading DSLR camera and is an excellent option for top rated image quality, video quality, and features.
Average battery life: 1200 photos

36.3 MP FX-format CMOS sensor without an Optical Low Pass Filter (OLPF)

3.2″ display

30% faster EXPEED 4 image processing engine

51-point AF system and 3D Color Matrix metering III with a 91,000-pixel RGB sensor

ISO 64-12,800 expandable

Professional video and audio capabilities
Nikon Coolpix L340 20.2 MP – Best Digital Cameras Under 200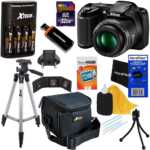 Tested by a variety of end users, from parents taking pics of their kids to professional photographers – the overall review on Nikon's Coolpix is that it's a great deal for the money!
With just enough basic controls, amazingly light weight and using just regular double AA batteries, it's a solid performer for most standard users.  The camera can be purchase by itself or in this bundle that we just discovered!
We like bundles when we total up the price and find it's a LOT less than if we bought the items separately. Plus, it's also a Best Seller, so others seem to think the same way!
20 mega pixel camera

Good 28x Zoom

3″ screen size
Weight under 1lb

20.2-MP CCD sensor for bright, sharp photos and HD videos

Comes with

4 AA alkaline batteries (x4), Lens Cap w/ cord, USB Cable UC-E16, Camera Strap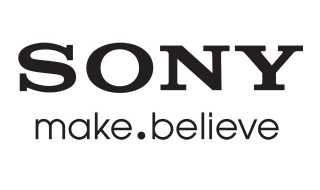 This is another leading brand in consumer electronics and is the third largest manufacturer after Nikon and Canon. This brand is quite well known for its user friendly models that are a fit for all types of buyers; whether an expert or a novice.
Sony Alpha A6300, Sony Cyber-shot Black, Sony Alpha A7R2, Sony Cyber-shot DSC-RX100V and Sony Alpha A68 have been added to the top charts of some of the best selling digital cameras around the globe.
Sony Cameras – Top Camera Brands
Sony a7 Full-Frame Mirrorless Digital Camera – Best Digital Cameras Under 1000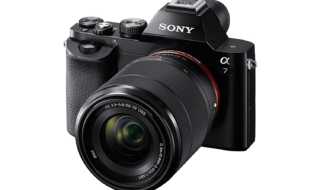 Unlike some other high-end DSLRs, the Sony a7 Full-Frame is the ideal digital camera for anyone who wants high-quality pictures and videos for an affordable cost.
At this price point, you are getting as much as and more than some that are higher priced.
24.3 MP full frame CMOS sensor

3 inch tilable screen and weighs just over 1lb


Up to 4 FPS in Speed Priority Continuous shooting

ISO 100-25600(AUTO ISO 100-6400)

1080/60p/24p HD video (AVCHD/MP4)

1/2-inch XGA OLED color electronic viewfinder with 2.4M dots

Raw and Raw + JPEG shooting
Sony DSCW800 – Best Digital Camera Under 100

If you are looking for a super easy, basic point 'n click model, then check out this Sony camera!  A user favorite for those that don't want a ton of features but do want to capture crisp clear shots.
Two features that we love about this Sony is the Smile technology that can capture a smile auto-magically so you don't have to worry about missing those great grins when they happen. We also like the picture effects feature which lets you enhance your images and videos.  All these features and a rock bottom price!
Picture Effect and Smile Shutter Technology
Sony Lens w/ 5x Optical Zoom
Easy

camera mode menu

Sony Lens with F3.2 (W) – 6.4 (T) Maximum Aperture

Reduced Blur with SteadyShot Image Stabilization
One of the oldest camera manufacturing brands, Kodak was established in 1889, and this is why it is worth mentioning on my list of camera brands on Techiesense.com as it has been recognized for over a century for its famous photographic films.
While it has had an amazing reputation and contribution to the world of picture taking over the years, the brand has struggled transitioning into the digital era like some other brands with their cameras.  However, Kodak still has a few tricks up its sleeve and we found a couple of the cameras at really affordable prices and well reviewed.
Kodak PIXPRO Friendly Zoom FZ43 – Best Cameras Under 100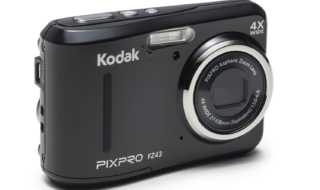 This little camera does a lot considering it's priced at the time we checked was well under $100.  It comes in red, black or silver and has good reviews for performance from most users.

It comes with a 4X optical zoom, 16MP and has a 27mm wide angle lens.  The screen is 2.7″ and it can handle 720pHD video as well.  All this and the camera weighs barely .26lbs!  That makes it extremely portable when you are on the go.  One thing to note, some users have commented that the zoom at some of the farthest settings is not as crisp and clear as they would like, so take that into consideration based on how you plan to use your camera.
Kodak Pixpro Astro Zoom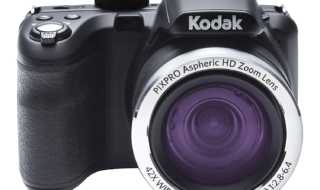 If you're looking for an all-around camera that's perfect for trips and leisure photography, the Kodak Astro Zoom is an affordable, high-quality option for any amateur photographer to check out and see if it is a fit.
Comes with:
Powerful 16.1-megapixel CCD sensor


Has both a 42x optical zoom and a 24mm wide angle lens

Facial features detection for people as well as pets plus blink/smile detection helps you to capture the perfect moment.

Built-in touch-up features allow you to reduce facial flaws, improve skin tone as well as the and the eyes of people in your photos instantly.

Panoramic pictures to 180-degree.

Most user love it, the one negative comment that we've seen mentioned that extreme zooming was not as crisp and clear as they would like for nature shots.  So if that's a goal, you might want to consider that.

This renowned Dutch Electronics brand, Philips was founded in 1891. The brand offers reliable range of digital cameras which have won the hearts of professional photographers for years now.
Some of the best models from Philips were the Philips ESP-80,  Philips PT44434, Philips ESP-60 and Philips ESP-2.  We found one model that is still popular, extremely affordable and does well for those looking for a convenient and easy way to take videos.
Philips CAM300WH/37 Camera – Best Digital Cameras Under 100

If you want something thin, light and highly portable that you use for mostly taking videos, then you might want to check out this Philips camera. Priced under $100, it does a solid job with videos and is easy to take with you everywhere.
It comes with:
A 3″ touch-screen for easy controls

Up to 12MP resolution for high quality photos

Able to take full HD videos

Integrated USB plug to easily connect to your computer

At this size and weight, it fits in your pocket

Olympus has quite a reputation when it comes to non SLR or mirrorless cameras with interchangeable lens option. Compact mirrorless cameras are easy to carry, as they are simple, lighter and less intrusive compared to DSLR cameras.
The E-5 has been the best selling DSLR camera available in the market since its launch.  Olympus'  flagship camera model, the E-5, which was launched in 2010 is still available in the marketplace even today, showing just how popular the model and maker are.
Their newer models are equally popular and cover a range of price points, making them affordable to more than just professional photographers!
Best Camera Brands & Models – Olympus
Made for those who enjoy an active lifestyle, the Olympus OM-D E-M1 Mark II offers high durability with amazing 4K video and photo quality in a lightweight and waterproof case.
It's a classic mirrorless Olympus camera that will last forever.  Plus, at this price point, it's top quality AND affordable:
Comes with built-in 5-Axis image stabilization for crisp, sharp images

2.3 million dot OLED electronic viewfinder that has 0.62X magnification

Able to run in silent mode


8.5 frames per second burst shooting

Fast touch auto focus

Olympus TG-5 Waterproof Camera – Best Cameras Under 500

For the outdoors and sports lovers, this might just be the perfect camera that you've been looking for!  It's an Olympus camera that is waterproof, allowing you to capture perfect shots from just about anywhere you choose to go – on land or in the water!

What was most interesting about this Olympus camera is the fact that photographers love the camera and while they note that for professionals there might be some features that aren't up to the level of some other cameras, the overall package of this camera is top notch!
Features include:
A 12MP Hi-Speed Image Sensor for better low light performance and noise reduction

Comes equipped with a F2.0 high-speed Lens

Dual Quad Core TruePic VIII Image Processor

Interesting addons include a GPS, manometer, compass, & temperature sensors

The camera is waterproof to 50 feet, dustproof, crushproof  up to to 220 lb of pressure, freezeproof to 14 degrees and has an anti-fog lens

A famous name in popular brands of electronics, Samsung has secured its place in the top charts of best digital cameras as well. The brand not only enjoys credibility for its name but also for superb quality cameras that comes standard with creative and impressive innovations.
Their innovations cannot be overlooked in the world of smartphone photography and this is another reason people have started exploring the Samsung world of digital cameras in recent years and one of the reasons that we're including it within our Best Camera Brands and Camera Models review.  I currently have the Samsung Galaxy camera and we'll be reviewing that in the near future.
Best Samsung Digital Cameras
Samsung Galaxy 2 Camera – Best Cameras Under 600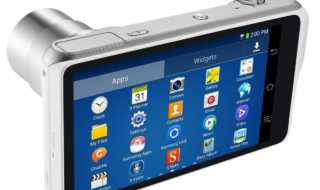 Small, functional and portable, the Samsung Galaxy Camera 2 runs on Android 4.3 and has Wi-Fi functionality, making connectivity easier. This camera has smart features, including e-mail, the ability to upload to social media platforms, and more.
It's fast, it's easy and it's just plain fun!  It you want gadget that does more than just take nice, high quality photos – then the Samsung Galaxy 2 camera is definitely worth checking out!
Comes loaded with:
Wi-Fi for access to Apps and easy sharing

Several SMART features such as: Social Media Upload, E-mail, Direct &  Mobile Link, PC Auto-backup, Remote Viewfinder to name a few

Average battery life of over 400 photos
Has a 4.8″ HD Super Clear Display – the big screen is really a nice feature for older eyes

21x Optical Zoom


1080p HD Video
Samsung NX Mini Mirrorless  – Best Digital Cameras Under 600

Samsung says about this little camera, "carry the style, capture the best" and that really sums up the Samsung NX Mini. A tiny powerhouse that lets you get great photos without being weighed down.  And at this price point, it won't break the bank either!
Comes with:
20.5 MP sensor
9-27MM lens
Amazingly thin and lightweight (under 7oz.)
Built in wifi to allow fast and easy sharing of photos
Average battery life of over 650 photos
Samsung SMART features that include:

Social Media Upload, E-mail, Direct &  Mobile Link, PC Auto-backup, Remote Viewfinder to name a few.

 

A trusted brand name since years, Fujifilm is still a talked about in the era of digital cameras.
This Japanese brand went head to head with Kodak during the early years, when these two were the pioneers in the world of photography. While Kodak has struggled in some areas with the transition, Fujifilm has made its name with wonderful models and superb quality pictures.
Fujifilm X-Pro1 and Fujifilm X10 are their latest additions to the market. If you are planning to buy this one to start with your photography lessons, you can buy from the Fujifilm FinePix series as it offers the best selling products.
The Fujifilm X100F has a classic design and high-end features. Rather than focusing on adding new features, Fujifilm X100F delivers higher quality photography at a reasonable price.
Both photographers and end users love this camera!  Its ease of use as as as small size is what makes it very attractive.
Includes:
Ultra-Fast Electronic Shutter that goes to 1/32000 Sec
Advanced filters as well as a built in ND filter
Full HD video recording abilities
Exposure compensation up to +/-5 steps
Fujifilm Instax Mini 9 – Best Digital Cameras Under 100

While we place this in our Best Cameras Under 100 dollars category, it is actually priced well below that in recent price comparisons – but we don't have any category less than $100.
This point and click camera is just plain fun!  If you are going to a party, family event or out with friends, it's a great camera to take and get instant pics now.  Something that you can share with your friends and pass around.  Perhaps that's what makes it a top seller on Amazon these days?
Now comes with a Selfie Mirror

Stylish and comes in 5 colors

Includes a Macro Lens adapter for close-ups – 35cm to 50cm

Automatic exposure measurement – to get the right picture every time
Pentax
Pentax is one of the well-known brands today when it comes to digital camera. It first rose into popularity in 1957 with the launch of the Asahi Pentax single lens reflex camera and has grown tremendously ever since. Pentax fills the gap that exists between lower end camera that offers few features and high-end DSLR cameras that big brands offer.
This brand looks to produce camera that meant for people that don't have enough money to afford high-end camera. Pentax cameras boast of durability, ease to use and comes with tons of features at a budget cost. Some of the best models that Pentax offers include the Pentax K-3, Pentax K-50, the Pentax Q7 and the Pentax LX.
Pentax K-50 – Best Digital Cameras Under 600
With an innovative shake resistant body made with their dust reduction technology, the Pentax K-50 guarantees sharp and precise images even in the harshest of conditions which is what users love.
Features:
ISO Speeds up to 51200 – 1/6000 of a second max shutter speed

Has a

high performance 16 megapixel APS-C CMOS image sensor

Battery life averages 410 photos
6fps continuous shooting speed
Weight – 1.43 lbs
Stands up in just about any weather conditions
Panasonic has always been one of the global leaders when it comes to effective electronics and different ranges of cameras. This company specializes in different products such as TV, smartphones and cameras. For a long time, Panasonic boasts of top quality and high-end cameras.
When it comes to cameras, this company has been a world leader in providing the best user experience. Cameras from Panasonic are known and user friendly. The image quality is among the top draws that Panasonic offers and the brand always try to stay ahead from its competitors. The best selection of cameras from Panasonic comes from the Lumix series with top models being the Panasonic Lumix G3, the Lumix LX100, Lumix LF1 and the Lumix G6.
PANASONIC LUMIX G7 – Best Digital Cameras Under 600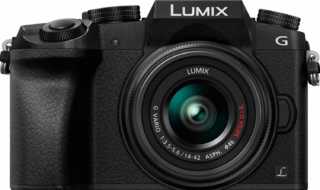 The PANASONIC LUMIX G7 provides DSLR level image quality without the added bulk and high price tag. This is the best all-around digital camera that can be used for almost any occasion or purpose.
Features:
So, when it comes to creating memories, buy a trusted brand of digital cameras so that each time you click, you get the results that you wanted! With photography evolving so much over the years, go for the latest technology and features to bring out your shutterbug best.
Our Best Digital Camera Brands list for 2017 may not be that surprising, but sometimes a mere mention of the best helps trigger considering a new, better options in your mind and you find the top camera that will work best for you!
Let me know what you pick when it comes to buying your best digital camera as a professional or a novice in the comments below.
After we all want that perfect smile on our faces even if we are at the other end saying…Cheeeeeeeeese!!!!!