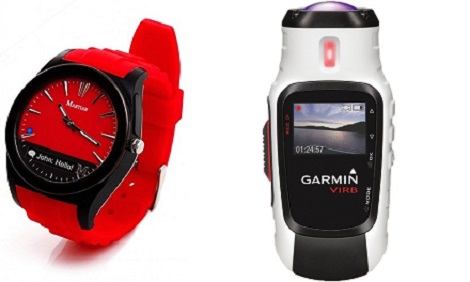 Technology is all about making life easier and simpler, and during the holiday season it's the perfect time to look for tech gifts for Dad! After all, many dads were the ones who taught us all about the latest in techie gadgets growing up. So we've searched out some of the best, coolest and most *FUN* tech gifts for men this holiday season.  Check them out and see which ones will work best for your Dad or other men in your life?
Noise Cancelling Headphones
Chances are that with all that's going on around the house that your dad is constantly inundated with noise and voices.  Kind of makes it hard to enjoy his favorite music or other program. So this gift would be perfect!  Get him the Bose QuiteComfort or QuiteComfort 20 headphones – These are great gifts for this type of dad.
Smartwatch
Apple smart watches may be the King in the world of smart, wearable devices, but there are several other watches that can perform well and at a cheaper price. Your father can be more health conscious with a few of them too!  Many of these watches let them track their calorie intake, heart rate and a lot more. This is one of the best tech gifts for mom too, who is a fitness freak, because it doesn't hurt for her to keep an eye on her health either.  We just don't recommend that you tell them it's because of their getting older, you aren't likely to get a good reaction to saying something like that. ????
For the dads who spend half their time on the road or at work, but love to watch their favorite movies on TV, the Amazon Fire TV Stick is the best option. This gadget offers tons of content from various sources that include: Hulu Plus,Amazon Instant Video, Netflix and more. In addition, the Amazon Fire TV Stick can be taken to hotels, and played there as well. As long as there are HDTVs, and with the username and password, the show is on! This can definitely make the list for the best the tech gifts for tech lovers.
Again, for those dads that are on the move or road warriors, it sometimes becomes a BIG decision of whether to charge the mobile phone or the laptop? In hotel rooms, many times, it can be a tedious task to charge both these devices, either because of too few power outlets, or because they simply aren't easily accessible. When you want to save this trouble for your dad, consider giving the Power2 Dual USB wall outlet. The device has 2 built in USB ports, and 2 traditional AC outlets. All issues solved!
Bluetooth Speaker
The Bluetooth speakers that are light in weight, and shock proof are great for the dads. This is the best bet, and these speakers are cool tech gifts for dad, who look forward something that would improve their music time.
The modern day phones are slim, sleek and delicate. That means that treating them roughly or not taking care can and will cause problems.  One of the biggest times that there's likely to be issues is when using the phone in place of alarm clocks.  The phone can be hit when looking for the snooze button, dropped and broken while trying to turn them off while half asleep. The best option are these cool hot docks, sleek docks made of bamboo. They look simple and elegant (and are affordable…). The your phone fits in perfectly, and the dock ensures the phone is safe.
Future Keyboard
This is the future keyboard can be connected to the smart phone of your dad through Bluetooth, and can start working as the usual keyboard of your computer. The device is of very compact size, making it a perfect travel companion. The optical light tracking offers ultimate freedom to the user, which is what most of the dads look for.
For the adventure loving dads, here is the best of the technology gifts for dads. This is a rugged video camera that would withstand any terrain. If your dad goes hiking, or into the woods for a walk, this is the perfect take along item!  Camping, fishing – all the outdoors activities make this a great companion. The battery is rechargeable, and is strong enough to last for long hours. The stabilization capabilities are awesome, and it is easy to use.
Martian Notifier SmartWatch
Is your dad bothers by having to track down and find the notifications on his phone? Do not worry, he does not have to look into his phone for every notification any longer! Let him have a look at this analog watch, and he does not have to touch the phone – all he has to do is to download the free Martian Notifier App. Then all the calls, messages, emails and chats are processed through the watch and he receives his notice even if his phone is someplace else. It is quite simple, and of all the tech gifts for men, saves effort and time for them.
This is one of the coolest gifts for Dad or other men in your life for the holidays or for any special occasion. The cleaner is absolutely automatic in nature and it can be operated easily. Grills can be cleaned without any manual labor and thus both time and energy can be saved. Different upgraded models of grill cleaners are now available and it doesn't take long to find the one that is right for you and your grilling style. You can choose Grillbot as one of the leading companies and their products come with a 30 year warranty and they are priced between $99 and $119 depending upon the model you choose.
Not all dads get enough time to scroll through the pages of their favorite books with everything they have to do for both professional and personal life. But don't get him go without his favorite books. Get the Samsung eReader which is light in weight, and offers a variety of larger font sizes, making it easy for your dad to read.  You can even add magazines and newspapers to the Nook eReader which makes it even easier for on the go reading time.  Personally, I've got a Nook and love it!  Great sizes, easy to read indoors or out.
Tired of issues with the electronics that your Dad has these days?  Make it easier on him and you with this Sony Blu-Ray Player with Wifi.  Easy to use, simple to setup and your Dad will now be able to see all the videos or movies that he wants.  Best of all, this one basically fits into our list of the Best Tech Gifts for Dad – 2015 and Under $50 too. Now that makes it a deal for you and for him!
You can find lots of computer gifts for your Dad that fit into your budget!  We've got several options listed above and in all kinds of price ranges.  Just choose the gift and price point that works best for you and get back to relaxing and enjoy this holiday season!