"The world's best camera and camcorder in a waterproof Smartphone", that's what Sony says about its latest flagship Xperia Z2. With an enhanced camera (yes we are talking 20.7 Megapixels) crisper audio, premium design, robust performance and an incredible display, this phone is aimed to give its users the best experience possible.
Dimensions: 146.8 x 73.3 x 8.2 mm | Weight: 163 grams
Waterproof & dustproof design
20.7 MP camera with camera apps
4K video
Full HD TRILUMINOS™ display
Noise cancellation
Impressive battery life
No HDMI port
Exclusive apps not too useful
Average text prediction engine
Slightly bulky to hold
Non-removable battery
Phone heats up at times
Key Features at a Glance
| | |
| --- | --- |
| Display | 5.2" Full HD TRILUMINOS™ Display with Live Colour LED & X-Reality |
| Camera | 20.7 MP primary camera | 2.2 Mp secondary camera |
| Audio | Stereo speakers with digital noise cancelling and ClearAudio+ |
| Flash Memory | 16 GB | Usable – 12 GB |
| Expansion Slot | microSD™ card, up to 128 GB (SDXC supported) |
| Battery | 3200 mAh | Talktime: 15 hrs (2G), 19 hrs (3G) |
| Processor | 2.3 GHz Qualcomm MSM8974AB Snapdragon 801, Quad Core |
| RAM | 3 GB RAM |
| Operating System | Google Android 4.4 (Kitkat) |
| Internet & Connectivity | GPRS, EDGE, 3G, Wifi, USB, Tethering, A-GPS, Bluetooth, Audio Jack, DLNA |
| Durability | Waterproof (IP55 and IP58) , Dust-resistant (IP55) |
What Experts say? Overview
With the competition in the Smartphone arena heating up, Sony has brought forth its third flagship device this year – the Xperia™ Z2. Sony has once again proven its mettle in building a top-notch phone with well-rounded features. Can the Sony Xperia™ Z2 beat its rivals and grab the coveted top spot?
Design
Design wise, Sony Xperia™ Z2 is not much different from its predecessor the Sony Xperia Z1. Both boast of a seamless, one-piece aluminum frame with durable tempered glass surfaces on the front and back. While this gives the Z2 a very sleek and premium appearance it can lead to a fingerprint mess. It has a rectangular slab design, minus clever curves that makes it seem a tad thicker and larger.
Button placement is another thing that is carefully designed; on one side, there is a power button – small and circular which seems to be in perfect position when the device is hand held, and below the standard volume up-down switch, is a dedicated camera button to allow easy point-and-shoot, the camera being the most incredible feature in this device. The dock connector on the other side however seems a somewhat out of place and not particularly in sync with the seamless design.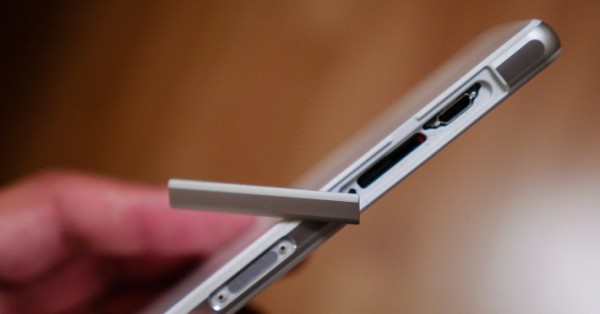 You will also find concealed microUSB and SIM slots on this side. It houses a 3.5mm headphone jack on top and the bottom has ports for accessories and microphone. You will notice, most of the slots/ports are covered in flaps in order to comply with water and dust resistance standards (IP55/IP58). The main speaker is on the top and front facing features are visible below the display as two well-hidden slits. There is also has a pretty RGB notification LED built into the top speaker.
Features of Z2
Display
There's one word for the display – impressive. The Sony Z2 comes with a 5.2-inch, Full HD (1920 x 1080) TRILUMINOS™  with Live Colour LED, a brand new technology integrated only into Sony Mobile displays, for increased colour depth and gradation. Its IPS display produces more vibrant and realistic colours and provides more accurate viewing angles and its X-Reality picture engine ensures incredibly crisp pictures without jagged edges and with a pixel density of 167 pixels per cm, you get razor sharp pictures that are incredibly bright.
These features ensure a pleasurable movie watching experience. And when you are out in the sun, no worry, Xperia™ Z2 has an adaptive brightness setting which enables better screen visibility under sunlight.
Camera
The feature that stands out most in the Xperia™ Z2 is undoubtedly the primary camera. The camera comes with a large 1/2.3" 20.7 Megapixel Exmor RS™ image sensor that enables higher sensitivity producing pictures with less noise and high fidelity, so you can capture stunning shots even in lowlight. Sony's award-winning G Lens and the intelligent BIONZ™ mobile image-processing engine infuse vibrant realism into every shot, getting the white balance and colours just right. The camera is supported by a single LED-flash that is hardly ever required given the technology uses.
The secondary camera is conventional with 2.2 Megapixels and wide-angle lens. What's even more spectacular is that the camera has 4K (movie hall quality) recording and slow-motion video capture. However, since very few TV monitors can support playback of 4K video, Xperia Z2 has downscaled the video quality to 1080p so that you can play it and Sony also recommends that you shoot your 4k videos in short bursts as it consumes considerable power and memory.
You can unleash your creativity by using the preinstalled camera apps – Timeshift video, Background defocus, Creative effects, AR effect, Vine, Info-eye™, Timeshift burst, Social live and Sweep Panorama. The combination of all of the above, along with features like 3X clear image zoom and SteadyShot™ guarantees you the performance of a real compact digital camera.
Sound
With ClearAudio+ technology – Clear Stereo, Clear Bass and Clear Phase, you can be assured of great clarity and minimal distortion while listening to your favorite music. Your Xperia™ Z2 will automatically select the best audio quality settings for your songs so that you can have an enhanced audio experience. The two separate stereo speakers deliver sounds that replicate natural hearing.
Durability
The Xperia™ Z2 has an impressive IP55/IP58 rating. It is protected against the ingress of dust and is waterproof. Not only can the phone stand a spill, but can also be kept under water for up to 30 minutes, that's pretty amazing, as this allows you to snap away under water, well just as long as you have kept the covers to the all slots tightly shut and not in too deep (>1.5 meters).
Connectivity
The Xperia™ Z2 welcomes you to the new age of connectivity with its NFC technology, so you no longer have to spend hours setting up connections between your devices. You can seamlessly connect to a host of electronic devices with just one touch by using the inbuilt One-Touch functions – One-touch connection, One-touch listening, One-touch mirroring, One-touch sharing, One-touch backup.
Performance
The Xperia™ Z2 is powered by a Qualcomm Snapdragon 2.3Ghz quad-core 801 processor and has a generous 3GB RAM and 3,200 mAh battery. This entails a zippy performance and efficient use of your battery life. The Apps load instantly and run smoothly; you can load multiple applications and multi-task without much lag.
Battery life is quite good, in that you can easily sustain one day or more on a full charge. It also has two power saving modes – low battery mode and stamina mode to order to effectively use power.
Another useful feature that helps in saving power consumption is the Location-based-Wi-Fi that automatically switches Wi-Fi off expect when you are in the range of your 'known' networks. Also being a 4G phone, it excels in mobile broadband.
Media playback is awesome, thanks to the big gorgeous and stunning display and excellent viewing angles. Also with the speakers out in the front, audio quality is considerably enhanced; however it is not at par with its rival the HTC One (M8) whose output surpasses the Z2.
The software, interface and apps are refreshingly simple which makes the phone very easy to use.
Customer Reviews on Xperia Z2
What Customers Say?
We have scouted the web for some common user comments about Xperia™ Z2:
The Good
Stunning display, great viewing angle, large screen
Reproduces natural colors, not oversaturated like Galaxy S5
Ultra fast processing
Most customizable camera
Good sound quality
Waterproof and dustproof
Plays graphic intensive games without lags
Battery life is good, lasts a little more than a day even after heavy usage
The Bad
Not much different from Sony Xperia™ Z1
No 4G, only 64 GB expansion available for Indian version
In-ear Noise cancellation headphones are not packed with Indian version
Bundles with normal headphones not noise cancellation ones (in India)
Ringing sound and speaker phone not as loud as when used for media playback
Heats up a lot while playing HD games, using 3G, or when being on call for long time
Our Verdict
Sony Xperia™ Z2 is by far one of the best flagships brought forth by Sony and a worthy contender for the slot of best Smartphone of the year, although it may face some flak for its overheating issue.
A bulky device is sometimes not conducive to a larger audience but having a large screen makes mobile web browsing and multimedia playback a pleasurable deal.
It has an outstanding camera that can bring out the photographer in you and you needn't spend big bucks on a digital camera.
That being said, it seems to be a well-rounded phone with a stunning display, great camera and design. However, having a rating of IP55/IP58 (waterproof, dustproof) is the only thing that sets it apart from its top rivals – the Galaxy S5 and the HTC One M8. Galaxy S5 boasts of an equally good camera, HTC One M8 surpasses the Xperia™ Z2 in audio quality and design. Also, a lower priced Nexus 5 scores better than the Xperia Z2 in display.
But if you are a Sony enthusiast and value the waterproofing value it brings, this robust and sleek phone could very well find its way into your pocket.
[Images © , Video and Infographic Credits : AndroidAuthority]